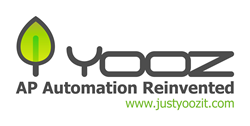 DALLAS/FORT WORTH/AUSTIN (PRWEB) June 15, 2015
Yooz, the cloud service that lets businesses streamline their accounts payable (AP) workflow, announced today that Aimbridge Hospitality, one of the nation's leading independent hotel investment and management firms, has selected Yooz to faster and more efficiently capture and process all travel and expense (T&E) documents throughout its multi-brand, multi-location organization.
Using the T&E process that is part of the full AP automation suite by Yooz, Aimbridge will be able to capture, approve and initiate payment of the T&E reports of its employees. This move toward a cloud-based financial workflow dramatically reduces cycle time and processing costs. Aimbridge has approximately 300 hotels under management, varying from limited service hotels to full-scale resorts. Aimbridge manages for all major hotel brands as well as independents.
"We developed Yooz with the needs of the modern hospitality industry in mind. A cloud-based service is ideally suited for a company with people that are spread out across a large geography with many decentralized locations and multiple brands. Having all important financial documents in one place to capture, review, approve and store them has a tangible impact on the bottom line – many times offering a 50 - 70 percent in savings," said Matt Williams, CEO, Yooz North America. Companies can see a Yooz demonstration during the HITEC Conference from June 15-18 in Austin, Texas, booth #2409.
Yooz lets companies update the time-consuming, manual entry of travel and expenses reports, bringing almost instant gains in efficiency and visibility to the financial workflow. As a pure cloud-based service with no upfront investment in new hardware or software, Yooz is the most cost-effective and efficient way to capture all relevant documents, including purchase orders and paper invoices. Traveling staff can now interact with T&E documents in a timely manner and monitor processing activities and managers' approvals anytime, anywhere.
"One of the three core values of Aimbridge is financial responsibility. That means capitalizing on every dollar invested into every property. By clearing our travel and expenses with Yooz, we are delivering on this promise to our employees and stakeholders," said Kevin Detz, SVP/Corporate Controller, Aimbridge. "As one of the leading independent hotel management companies, we're constantly challenging ourselves to utilize technologies to support our pace of growth and deliver results to our owners. We are confident that Yooz will help us achieve that goal."
About Yooz:
Yooz brings intelligence to AP automation. It is designed and built for the era of cloud computing, empowering SMEs to streamline their financial workflow in order to save time and money. Yooz was initially developed and launched by ITESOFT, a European company that has for more than 30 years been a leader in intelligent document capture and process automation. Yooz is now an independent company within ITESOFT-Yooz Group and has more than 1,300 customers. For more information, visit http://www.justyoozit.com and follow us @justyoozit.
About Aimbridge:
Aimbridge Hospitality is the nation's second largest independent hotel investment and management company with a proven track record for delivering superior returns for its strategic partners in a variety of markets and economic cycles. Aimbridge provides property management, asset management, development, renovation and consulting services. Based in Plano, Texas, Aimbridge currently owns and/or manages approximately 300 independent and branded hotels across the United States and the Caribbean, including such affiliations as Marriott, Hilton, Starwood, Hyatt, Wyndham, and Choice Hotels. For more information about Aimbridge visit http://www.aimbridgehospitality.com.
Media inquiries:
Andrea Heuer
Heuer Media for Yooz
(917) 886-5113
@andiepear