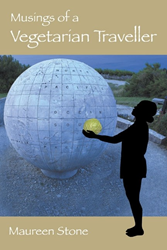 "The story of my transformation...is about the interesting, diverting, amusing, distressing, provocative, and irritating things that have happened to me as a vegetarian traveller." - Maureen Stone
(PRWEB) June 15, 2015
For anyone who loves travel, sociologist Maureen Stone provides a very different perspective in her funny new book on world travel, "Musings of a Vegetarian Traveller."
From the Caribbean to Europe, India, Asia, Africa, and South America, readers will enjoy her reflections on personal, political, social, and contemporary issues. One of the most notable travels – her journey from meat eater to vegetarian – provides a wonderful look into the worlds she encountered.
As the author says, "The story of my transformation from a meat-eating to vegetarian traveller is not about food, but rather, it is about the interesting, diverting, amusing, distressing, provocative, and irritating things that have happened to me as a vegetarian traveller."
Watch the video on the attached PDF or at http://www.youtube.com/watch?v=3ENnO2LMDaI
MUSINGS OF A VEGETARIAN TRAVELLER (ISBN: 978-1-60911-828-0) is available for $14.50 and can be ordered through the publisher's website: http://sbpra.com/maureenstone/
or at Amazon.com and Barnesandnoble.com.
About the Author: Maureen Stone was originally trained as a social worker and then a sociologist. She was born in Barbados, and educated in India and the United Kingdom. After a brief career in social work, she moved into academic life as a university teacher and Independent Research Consultant. She is a full-time writer/traveller and has written numerous academic works.
WHOLESALERS: This book is distributed by Ingram Books and other wholesale distributors. Contact your representative with the ISBN for purchase. Wholesale purchase for retailers, universities, libraries, and other organizations is also available through the publisher; please email bookorder@sbpra.net.