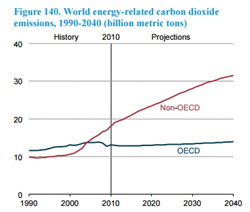 Access to air travel, which is totally dependent on petroleum fuels, would have to be severely limited
Calgary, Alberta, Canada (PRWEB) June 16, 2015
Friends of Science has issued a sobering, new report entitled "Climate Change Targets for Canada - Examining the Implications" by energy economist Robert Lyman that assesses the implications of past and recent climate change reduction targets – the most recent being set at the meeting of G7 ministers in Germany as reported June 8, 2015 by the Financial Times, in which G7 leaders said they "wanted to cut greenhouse gas emissions by 40-70 percent by 2050, from 2010 levels" with the goal of decarbonizing the global economy in this century.
Lyman points out that: "Canada represents 1.8% of global anthropogenic (i.e. human-induced) GHG emissions. The Canadian share is dropping every year, but emissions in Asia grow."
Citing the U.S. Energy Information Administration (EIA) "International Energy Outlook 2013" forecast report, one of the most authoritative sources of analysis on world energy markets, Lyman notes that emissions in the non-OECD countries are forecast to grow from 18 billion metric tons in 2010 to 31 billion metric tons in 2040. [Forecast link: eia.gov/forecasts/ieo/pdf/0484(2013).pdf]
"Based on this growth, driven by the desires of people in the less developed countries for higher standards of living, even if Canada and other OECD countries were to meet the 70% reduction target, global emissions would still grow above 2010 levels," says Lyman.
The climate change targets would have stark implications for Canada, according to Lyman, as Canada is a vast country with large transportation needs, geographically set in northern latitudes. Thirty-five years simply is not enough time for such a transition.
According to Lyman's "Climate Change Implications" report, the 70% from 2010 targets by 2050 would require unprecedented changes in the Canadian economy and society, meaning eliminating all oil, natural gas and coal from the energy consumption mix, shutting down the oil and natural gas production, refining and processing industries, and quickly constructing several new nuclear reactors.
This does not seem realistic in light of the world's use of one cubic mile of oil per year, as reported in the Globe and Mail, Sept. 06, 2013, which notes that alternative energy sources are paltry and insufficient.
Under the 70% G7 target, Canadian emissions-intensive industries like steel and automobile manufacturing would have to eliminate most or all emissions.
"Access to air travel, which is totally dependent on petroleum fuels, would have to be severely limited," says Lyman.
Friends of Science Society points out these measures would have cascading effects on employment, much-in-demand consumer sectors like the travel and hospitality business, especially for Canadian 'snowbirds' who enjoy winter flights to warmer climes. The US alone reportedly benefits to the tune of some $22.3-billion annually based on 23.5 million Canadian visits according to this report in the Financial Post of Feb. 24, 2014.
In the European Parliament in January 26, 2015, MEP Roger Helmer of the UK characterized the impact of stringent climate change targets and policies as "The Madness of Europe's Industrial Massacre" citing thousands of jobs lost and emissions simply outsourced to countries with no such standards.
Similarly, Lyman's shocking conclusion is that these climate change reduction targets, in the absence of miraculous new energy technology, would shrink Canada's 'carbon footprint', relative to its economy and population, to levels today seen only in poverty-stricken countries like Haiti, Afghanistan, North Korea and Chad.
"The IPCC goal of reducing GHG emissions would not come even close to being met due to emissions growth in Asia," says Lyman. "Canada's sacrifice, in effect, would be largely a symbolic gesture, but devastating to our economy. Canadians should judge carefully how great a cost they wish to bear for symbolism."
About
Friends of Science have spent a decade reviewing a broad spectrum of literature on climate change and have concluded the sun is the main driver of climate change, not carbon dioxide (CO2). The core group of the Friends of Science is a growing group of earth, atmospheric and solar scientists, engineers and citizens.
Friends of Science Society
P.O. Box 23167, Mission P.O.
Calgary, Alberta
Canada T2S 3B1
Toll-free Telephone: 1-888-789-9597
Web: friendsofscience.org
E-mail: contact(at)friendsofscience(dot)org