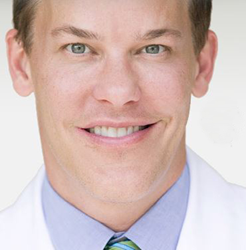 Los Angeles, California (PRWEB) June 15, 2015
As an advanced aesthetic dermatologist in Los Angeles, Dr. Derek Jones has served as a principal investigator on trials that have led to U.S. FDA approval of dermal fillers, including Juvéderm®, Belotero®, and Radiesse®; wrinkle treatments including BOTOX® and Xeomin®; and the eyelash booster Latisse®. His work as the lead investigator on the Juvéderm Voluma™ trial led to his recommendation of the cosmetic as a way to correct natural mid-face volume loss—and its ultimate approval with the U.S. Food and Drug Administration.
Most recently, Dr. Jones applied his Beverly Hills-based dermatology experience to the trial for a new cosmetic procedure, first known as ATX-101. In technical terms, this injectable is intended to treat excess submental fat. More simply put, it helps to reduce the appearance of double chins. Final approval from the FDA came on April 29, 2015, meaning the cosmetic procedure, now known as Kybella™, is currently available to the general public.
Kybella™ is a naturally occurring acid that essentially pops fat cells like balloons, destroying them. Since it's administered via a series of very small injections under the chin, the procedure takes about 15 minutes, but Los Angeles' Dr. Jones explains that Kybella™ offers a permanent solution to the problematic submental fat.
In an executive summary available via the FDA, manufacturer Kythera noted that an excess of submental fat can be the result of lifestyle choices, genetics, and simply getting older. Dieting and exercise may help to eliminate fat, but such methods don't always remove it from everywhere it's not wanted. Liposuction is available to physically remove it, but some patients have expressed a desire for a solution apart from a surgical procedure, which can be invasive and require anesthesia. Kybella™, on the other hand, can be administered quickly, and recovery time is basically nonexistent. Reported side effects are bruising and swelling at the injection site, and possible temporary numbness.
Kythera began work on ATX-101 about eight years ago. More than 2,600 patients and 19 clinical studies later, the company was ready to take the next step. Kythera submitted a New Drug Application to the FDA almost exactly a year ago, in May 2014. Three months later, similar paperwork was filed in Canada. Applications in Switzerland and Australia followed.
On March 9 of this year, dermatologist Dr. Jones submitted his findings to the U.S. FDA for approval as a treatment for submental fat. The federal agency had its say April 29.
Want to learn more about Kybella™ or Dr. Derek Jones as a dermatologist? Los Angeles-area patients and others can call 310-246-0495 or visit skincareandlaser.com. Find out even more about Kybella™ and Kythera by visiting kythera.com.