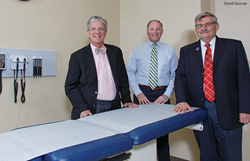 Lynchburg, Va. (PRWEB) June 14, 2015
Less than a year since opening its doors, Liberty University College of Osteopathic Medicine (LUCOM), in cooperation with Central Virginia Family Physicians (CVFP), will open a community care clinic designed to serve greater Lynchburg (Va.) in July.
The partnership with CVFP (a collection of eight private family practices) is the first of what LUCOM leadership hopes will be many mutually beneficial, collaborative alliances within the Central Virginia medical community.
Such outpatient partnerships support the education of LUCOM's student physicians and complement the partnership the university already has with Centra Health. Both Liberty nursing and medical students benefit from the practical experience gained while working with Centra's specialty care physicians and other health care professionals in hospital-based clinical settings.
These affiliations not only increase the capacity of the medical partners, expanding access to quality health care for patients across Central Virginia, but will also provide invaluable learning opportunities for LUCOM medical students. The primary care clinic, called the Liberty Mountain Medical Group (LMMG), is staffed by LUCOM faculty and CVFP physicians.
"This patient-centered, primary care medical center will allow our students to see, evaluate, and participate in the treatment of patients under the supervision of physician instructors," said Ronnie Martin, D.O., FACOFP-dist, dean of LUCOM. "It is also part of our commitment to the community to expand access to quality health care for all those in our region and state. It is a physical demonstration of Liberty University's dedication to improving the lives of all the citizens of Lynchburg and our neighboring communities."
The clinic is located on Wards Road in the K-Mart shopping center and will provide family medicine, internal medicine, osteopathic manipulative medicine, pediatrics, sports medicine, and women's health to residents of Lynchburg and the surrounding areas. The LMMG was built as a general family practice with a commitment to treat patients of all ages, incomes, physical abilities, races, and ethnicities.
It is equipped with state-of-the-art technology, offering digital X-ray, bone densitometry, and full ultrasound capabilities, as well as facilities to run diagnostic laboratory tests and cardio-pulmonary stress tests. Future plans call for the development of occupation and sports medicine treatment and rehabilitation services, as well as counseling and behavioral health services.
"The clinic is designed to be a comprehensive care clinic and a medical home for patients. You can, and we hope do, develop an ongoing relationship with a personal physician," states Martin.
Dr. Keith Metzler, lead physician at the LMMG and a CVFP family practice physician with over 29 years of experience, said he is honored, yet humbled, when folks entrust him with their health care.
"That humility drives me to the Great Physician to seek wisdom to apply the best medical practices with compassion and grace as I manage my patients' health and wellness."
This dedication echoes not only the purpose of LUCOM, now evidenced by the LMMG, but the spirit of Liberty University as well.
Practical application of knowledge and compassion is what the university emphasizes in all of its programs and — with regard to the young medical school — is putting into practice by helping local citizens proactively pursue good health as well as treating them when they are in poor health.
While the LMMG is not an immediate care facility, its partnership with CVFP means that patients will be able to utilize CVFP immediate care centers if an emergency arises. They can be confident that attending physicians will have access to their medical history, ensuring seamless care and decreasing the incidence of unnecessary or duplicated tests or medication errors.
This is possible through the "patient-centered medical home" approach, a model of primary care utilized by CVFP, LUCOM, and the LMMG that combines teamwork and information technology to improve patients' health and their experience of care while reducing costs. By sharing access to medical records among the members of a patient's health care team — including personal physicians, specialists, emergency care doctors, nurses, and pharmacists — each practitioner is fully informed and able to give the highest level of care possible to their patients.
"Robust, cost-effective primary care is the only way that we will be able to afford health care in the future," said Dr. Thomas Eppes, president of CVFP. "CVFP aims at quality care and cost-effective care, with a great personal patient experience every time."
This team approach to delivery of care not only increases efficiency and provides patients with a big-picture view of their health, but, more importantly, it allows the focus of patient care to shift from disease treatment to disease prevention. And patient-centered wellness, not simply the treatment of illness, is at the heart of LUCOM's mission.
"We envision the clinic as a medical home, providing quality, continuous, collaborative care with an emphasis on patient-centric care and services," says Martin. "It is our goal to expand wellness and health, not merely treat disease, and that is always done in partnership with the patient."

The Liberty Mountain Medical Group will be open Monday - Friday, 8 a.m.-5:30 p.m. and Saturday, 9 a.m.-1 p.m. Patients may book appointments with their physician(s) of choice by calling the clinic at (434) 582-2273 (CARE), or visiting http://www.Liberty.edu/LUCOM/LMMG or http://www.CVFP.net. Same-day appointments are available during operational hours, and major insurances accepted include Anthem, Medicare, Cigna, PCHP, and Optima.
This story also appeared in the Summer 2015 Liberty Journal.
About Liberty University
Liberty University, founded in 1971, is the largest private, nonprofit university in the nation, the largest university in Virginia, and the largest Christian university in the world. Located near the Blue Ridge Mountains on more than 7,000 acres in Lynchburg, Va., Liberty offers more than 450 unique programs of study from the associate to the doctoral level. More than 200 programs are offered online. Liberty's mission is to train Champions for Christ with the values, knowledge, and skills essential for impacting tomorrow's world.