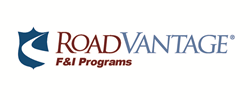 "It's a profit generator for dealers, which is why agents and dealers are embracing this program."
Austin, Texas (PRWEB) June 15, 2015
RoadVantage, the fastest-growing provider of F&I programs for the automotive industry, today announced a new initiative aimed at helping dealerships increase profits on retails sales and lease programs through a single customizable F&I product bundle.
"The 'Total Solution' offers three bundle choices, tailored for either retail or lease customers – on a single form," said Garret Lacour, CEO of RoadVantage. "It's the most comprehensive bundle available, and the customizable options make it the perfect solution for retail or lease customers, directly driving greater profits for dealers."
RoadVantage introduced the industry's first cosmetic coverage for Chrome and Chrome Clad wheels over two years ago, and introduced the industry's first cosmetic coverage for Wheel Covers (hubcaps) earlier this year as part of its True Coverage initiative. The RoadVantage PreferredPlus programs incorporate this coverage while also offering customizable packaged solutions for both retail and lease customers, providing a competitive edge through a single, simple solution. This is the RoadVantage Total Solution.
"Whether dealers are working with retail sales or lease customers, the RoadVantage Total Solution offers the most comprehensive coverage on the market today, including three customizable options on one form, which simplifies presentation while occupying multiple places on the menu," said Brad Blizzard, national vice president of sales with RoadVantage. "It's a profit generator for dealers, which is why agents and dealers are embracing this program."
The RoadVantage Total Solution includes a PreferredPlus retail program and a PreferredPlus lease program, tailored specifically to each group of customers. The lease program offers the lease customer a stronger value proposition during the lease term than lease wear-and-tear programs because it provides wear-and-tear protection while the customer is actually driving the vehicle. The lease program is an appearance program, featuring interior coverage along with cosmetic wheel coverage, door ding, windshield and key replacement benefits.
Earlier this year RoadVantage introduced True Coverage, a new approach to F&I that reduces exclusions and simplifies contracts (http://www.roadvantage.com/true-coverage), which is incorporated into the RoadVantage Total Solution announced today.
About RoadVantage
RoadVantage is led by F&I industry veterans focused on one goal: building the best automotive aftermarket ancillary product company, from the ground up. The RoadVantage team leverages new technology and a streamlined approach to develop truly innovative products that offer the highest level of customer experience – driving value and profit for all stakeholders, and setting a new industry standard in the process. RoadVantage (http://www.roadvantage.com) offers a full portfolio of ancillary products through certified agents and is headquartered in Austin, TX with regional offices in Boston, MA; Dallas, TX; Long Island, NY; Phoenix, AZ; Miami and St. Augustine, FL.
Contact:
Melissa Anderson
Director of Marketing
RoadVantage
Ph: (855) 955-7623
http://www.roadvantage.com
melissa(at)roadvantage(dot)com
RoadVantage
For more information, please visit http://www.roadvantage.com.
# # #