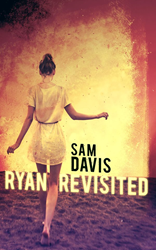 Sam is one of those people you see having a very bright future, she's a very strong and passionate author. Sam understands the publishing world and addresses it like a business
Charleston, SC (PRWEB) June 14, 2015
Sam Davis is an independent author based in San Antonio Texas. On June 14th she releases her first novel, Ryan Revisited. This 145,000 word novel targets mature young adults.
Sam is represented by Italia Gandolfo of Gandolfo Helin & Fountain Literary Management.
Rick Miles, founder of Red Coat PR said "Sam is one of those people you see having a very bright future, she's a very strong and passionate author. Sam understands the publishing world and addresses it like a business."
About the book:
When you don't have any idea who you are, how do you decide who you want to be?
Who is Ryan Ester? The Southern-belle-in-training her estranged father wants her to be? The laid-back Montana girl she became after her parents' divorce? Or someone she has to discover on her own?
When Ryan's only shot at going to college is on her father's dime, Ryan leaves Bluffs, Montana to return to the antebellum South she once called home. As if the move wasn't hard enough, Ryan's first love, who recently left her a broken-hearted mess, has a scholarship to none other than Ryan's destination, the University of the South.
Ryan Ester may not know who she is, but she sure as heck knows who she doesn't want to become. As she tries to navigate scandal, heartache, and the unbearable pressure to look and act perfect every waking second, she resents being pushed by everyone who wants to decide for her. For the sake of her own sanity and the hearts of those she cares most about, she will have to find a way to forge her own path.
About the Author:
Sam Davis loves to write tucked away in her cave with a large sweet iced tea and the occasional (grossly understated) chocolate vice. She lives in Texas now with her husband and three young daughters, but she was born in Georgia, went to high school under the beautiful Big Sky of Montana, and graduated from college in Alabama. Sam spends too much time reading YA and NA books, watching the CW, using emoticons and hashtags, shopping at Nordstrom BP, and writing anything and everything, anywhere and everywhere. She loves to eat, Jillian Michaels (in that order), Nutella, going to the movies, the written word, Jesus, Auburn football, Ron Pope, Big Sky Country, and every kind of person.
Ryan Revisited is the story of a young woman's search for identity. For serenity. For the perfect landing spot for her aching heart.