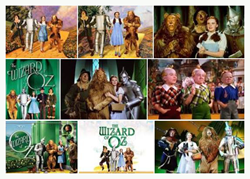 Burlington, New Jersey (PRWEB) June 17, 2015
Join Glinda and Toto too, in this lavish production highlighted by mesmerizing special effects that make all feel they are in Munchkin Land. There are two shows only and this production is selling out quickly, so don't delay in ordering tickets. This professional theatrical show is 1/5 the cost of a Broadway ticket.
Contact the Debra Sparks Dance Works for more information and to purchase tickets. Tickets may also be purchased at the door for $25.00.
This performance is being held on June 19th at 6:00pm and June 21st at 11:00am at Burlington Township Performing Arts Center, a state of the arts facility serving theater productions in Burlington, Bucks, Philadelphia and surrounding areas.
Dorothy learns "There's No Place Like Home" as the audience learns there's no place like Debra Sparks Dance Works. The excellence of the dancers, from the youngest characters in Munchkin Land, to the teens playing main roles cannot be denied. This Newtown, Pennsylvania ballet studio never disappoints in it's yearly dance performance showcasing the students' talents. Follow the yellow brick road to Burlington Township Performing Arts Center for a show that will take you from the cornfields in Kansas to the gates of Emerald City, and see how dancers of all ages with proper training can perform like pros.
About the Studio
If you are looking for pre-professional training, or if dance is just a hobby, Debra Sparks Dance works is the place to go. The school offers classes for students in ballet, jazz, tap, hip-hop, modern, lyrical, and more. When it comes to the best of Bucks County dance instruction, there is no better choice than the Debra Sparks dance studio. Ms. Sparks raises the "barre" with her expertise to produce the areas' finest dancers.
Debra Sparks Dance Works serves students from Newtown, Yardley, Holland, Langhorne, Ivyland, Lower Makefield, Washington Crossing, New Hope and more. For more information please visit the website http://www.debrasparksdanceworks.com or email Debrasparksdanceworks(at)comcast(dot)net or call the studio at 215-579-5678.