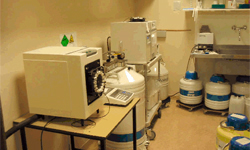 London, UK (PRWEB UK) 15 June 2015
The news that a 27 year old woman in Belgium was the first ever to give birth to a baby using her own pre-adult frozen ovarian tissue has caused interest around the world. The procedure may become increasingly important given the increasing number of long-term survivors of haematological diseases diagnosed in childhood. In the delicate process, fragments of ovarian tissue are very carefully frozen down before long term storage in liquid nitrogen. When needed they are thawed and transplanted. The process of freezing down tissue prior to storage is of critical importance.
The controlled rate freezing of sensitive tissue is an area in which an independent British company has specialised for forty years. Planer plc, based near Heathrow, have provided their controlled rate freezers to scientists around the world and they were used in 1984 for the world's first human frozen birth. The Belgian team involved in this procedure have Planer freezers along with their colleagues in Louvain where the world's first ovarian tissue transplant was undertaken by Prof Donnez in 2004 – who also used a Planer cryogenic freezer. The procedure for freezing the tissue was described by Dr Isabella Demeestere in Human Reproduction journal March 2006 (http://m.humrep.oxfordjournals.org/content/21/8/2010.full).
In this latest case, the team lead by Dr Demeestere, removed the ovary when the girl was 13 years old, just before she had begun treatment. As the chemotherapy needed for the cancer treatment can destroy ovarian function, doctors removed the ovary and froze tissue fragments. Tiny strips of ovarian tissue, one to two millimetres thick, are taken from the most productive part of the ovary and cut into sections and treated with cryo-protectants before very careful freezing.
Since biological tissue can be very sensitive to temperature, the freezing process before storage in liquid nitrogen is very important. Many scientists around the world choose controlled rate freezing and Planer plc are the world leaders in this area. They have helped in many breakthroughs, including in 2014, the world's first successful freezing and re-implantation of an adult mammal organ – an ovary.
In 2004, in the world's pioneering procedure, a team led by Professor Donnez, whose labs have three Planer freezers, treated Ms. Ourda Touirat, a thirty two year old cancer patient. She had a daughter in September 2004 after undergoing the transplant; her tissue was removed in 1999, before her radiotherapy treatment
In 2013 a team from Melbourne IVF in Australia reported the world's first pregnancy from ovarian tissue grafted onto a patient's anterior abdominal wall. Again her ovarian tissue was frozen using a Planer freezer and seven years after the frozen tissue was thawed and grafted back to help her successfully conceive with her own eggs.
Details : http://planer.com/company/news/news-2013/273-2013-2/609-a-world-first-pregnancy-from-frozen-ovarian-tissue-grafted-outside-a-womans-pelvis.html
For over 40 years UK based Planer plc has been helping hospitals, research laboratories and the IVF industry with the safe storage and preservation of medical and biological specimens, Planer has a network 80 distributors around the world, distributing their range of cryogenic freezers, benchtop incubators and laboratory monitoring equipment.
Background on Planer
http://planer.com/company/profile.html
Background on Planer freezers
http://planer.com/products/cryo-freezers/small-crf/kryo-360.html
http://planer.com/products/cryo-freezers/medium-crf/kryo-560.html