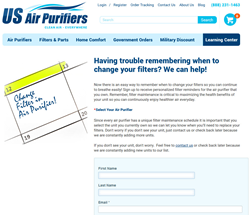 Filter maintenance is critical if you want your air purifier to operate at its peak performance.
Peoria, IL (PRWEB) June 15, 2015
USAirPurifiers.com, a Midwestern firm noted as an online supplier of high quality air purification systems for both residential and commercial applications, has announced a new feature that offers friendly email reminders when a filter is due for replacement. USAirPurifiers will constantly update the tool with more filter types to its website's signature filter change reminder tool.
This tool currently supports filter options for 61 different models across 8 separate brands. Despite this already large variety, the company has announced this week that more models will be supported in the future as the tool is updated. Barb Lulay, part owner of the firm, has stated that as time goes on, the tool will be expanded to include many more models.
The filter reminder tool is designed to help consumers remember when it is time to change the filters in their residential air purifiers. Because modern purifiers can often run on a single filter for months or even years, it is very easy to lose track of when a filter will next need to be changed. For this reason, anyone can register their model and filter through US Air Purifiers LLC's reminder tool and receive a free reminder via email when the time comes to change the filter.
Lulay says, "Filter maintenance is critical if you want your air purifier to operate at its peak performance. That is why we take the extra steps to assure you initially have the best unit for your needs, plus we go the extra mile so you can enjoy healthier air for years. We care about your investment in your health and your home."
Another great advantage of this tool is that you could have bought the air purifier from anywhere and the tool will still work for you. USAirPurifiers LLC does not require that you initially purchase the unit from them to take advantage of this excellent resource.
About the Business:
Barb and Dick Lulay's customers are passionate about naturally reducing their risk of disease. Their customer service and product expertise make shopping with http://www.USAirPurifiers.com and http://www.OttersDream.com an ideal experience. With a full line of natural products such as air purifiers, natural supplements, green cleaners, weight management and paraben free skin care, families find they can conveniently do their household shopping online with home delivery. As successful business owners, the Lulays offer a mentoring program for other aspiring entrepreneurs. They present exceptional marketing tools and a training program that shows how to generate immediate income as well as long term passive income.