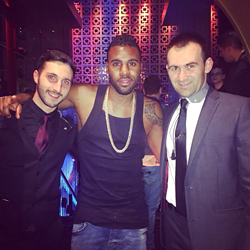 "We recognize the importance of driving real, authentic and passionate experiences. Our guests love what we currently offer, but we want to give them even more"
Knightsbridge, London (PRWEB UK) 13 June 2015
There is plenty to celebrate at Buddha Bar, who have just won Best Restaurant and Bar at the London Club and Bar awards for the second year running.
This phenomenal achievement marks Buddha Bar out as the number one place to spend a dazzling evening in the greatest capital in the world.
To celebrate this spectacular award win, Buddha Bar has launched 'Yui-itsu': guaranteed to set the capital abuzz. Guests are invited to step inside an intriguing new world this summer; a Japanese world.
'Yui-itsu' means unique, or "the one and only', in Japanese. It is the perfect name for this series of unique events and remarkable experiences that will bring the Japanese way of life to the London dining scene in a way that has never been done before.
The summer events will bring various dimensions of Japanese culture bursting into life, right here on our doorstep:
Mondays 'A gateway to Japan' presents the ONLY UK professional player of the Shamisen who will play an exclusive set of Japanese Blues. There will also be an extraordinary showcase of Calligraphy skills and Zen from a Zen Master who is flying in especially from Japan for the occasion.
On Tuesdays, experience the first bona fide workshop and masterclass featuring the art of the Japanese Tea Ceremony and Green Tea.
Their signature Kyoto Nights on Wednesdays will unleash the wild happenings of the Kyoto underground in Buddha Bar's decadent basement bar. Already hosting the successful Kyoto Nights, Charlotte Davis of cdeventsgroup.com presents a brand new "naked sushi experience" inspired by the ancient Japanese art of Nyotaimori, where exquisite sushi delicacies are served from a reclining naked body. Originating from the time of the Samurais, geishas would perform Nyotaimori to reward the victorious warriors in celebration after a battle. Never has oriental decadence been so desirable!
Buddha Bar will also be housing an exciting series of events presented by the Gentlewoman's Club. Run by founder Jae Raux, feminine lifestyle brand http://www.fiena.co has captured the zeitgeist and been hailed by Richard Branson as one of the top 10 start-ups. Fiena throws incredible experiential networking events for female leaders and visionaries. Together with Buddha Bar the boundaries of pleasure, the appreciation of originality and the pursuit of excellence will be pushed further still. All tastefully wrapped up in, oh, oodles of fun!
From June 15th onwards on selected nights guests can enjoy an Arabian Nights theme. Indulge in delectable treats from special menus, admire prodigiously talented belly dancers and sample a selection of flavours from the e-shisha menu.
"We recognize the importance of driving real, authentic and passionate experiences. Our guests love what we currently offer, but we want to give them even more" explains Stefan Stefanov, owner of Buddha Bar Knightsbridge. He adds: "Buddha Bar is ready to innovate and take Pan-Asian dining to the next level in London" 
Make no mistake – the sky's the limit at Buddha Bar this summer. Get set to enjoy this thrilling new era of fascinating Japanese culture and chic, unique, eccentric experiences.
Naturally, no matter what event is on, there is no such thing as an 'ordinary' night at Buddha Bar. You never quite know who you will meet at this celebrity hotspot, which welcomes a wide array of famous patrons from all over the world. A highlight this week was a visit from singer Jason Derulo, looking every bit as good as he sounds on smash singles like Want to Want Me. What can we say?
Award-winning Buddha Bar simply offers the very best in experiences and tastes, all part of the most extraordinary fun you can enjoy in London. Time to upgrade your summer and set the pleasure bar as high as it will go.
Cocktail Special Offer: Can't wait to get down to Buddha Bar? Enjoy a special welcome from them – simply book your experience quoting this article and receive 50% off your cocktails between 5pm and 7.30pm before you dine.
CONTACT:
Press and further enquires: info(at)cdeventsgroup(dot)com
Web: buddhabarlondon.com
Visit: 145 Knightsbridge, London SW1X 7PA
Tel: 0203 667 5222