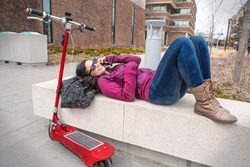 A boombox on two wheels
Toronto, Canada (PRWEB) June 18, 2015
Announcing the launch of The Photon Scooter by Daymak, an all-new electric scooter completely designed and created in Canada. Main features include a solar panel, waterproof speakers with FM/MP3, Bluetooth, USB charging port, and an alarm system. Daymak has developed an innovative new patent pending design which will propel the electric scooter into a new dimension.
"Daymak has re-invented the scooter for the 21st century. Everyone has a phone, everyone wants music and no one wants to plug in. The Photon now raises the scooter to the next level with a lot more cool and fun features" said Daymak CTO, Aldo Baiocchi. "The Photon is for ages 8 to 88. Imagine you are riding the Photon scooter to work while charging your phone and playing your favourite tunes. A boombox on wheels"
Fully electric, the Photon re-charges under any daylight at approximately 0.3 km / hour using its 6W solar panel. It can travel distances of up to 15 km using its 24V battery pack available in lithium or lead acid batteries.
With its innovative trickle charging solar panel, the Photon has solved the number one cause of battery failure in scooters, which is remaining uncharged for prolonged periods of time. The Photon can also be used as a battery source to charge any USB device including cell phones and tablets. The SRP for the scooter has been set from $299 USD/ $ 375 CAD.
Daymak is launching the Photon on Kickstarter where early buyers will be able to purchase first editions at discounted rates starting from $149 USD. The campaign is set to start today on Kickstarter.com or visit photonscooter.com for more details.
About Daymak Inc.
Daymak, a Toronto-based company, incorporated in 2002, is a leading developer and distributor of personal light electric vehicles with over 250 dealers across Canada. Daymak's main technology is the patent pending Daymak Drive System (DDS). The Daymak Drive System is a revolutionary self charging system made up of wireless and wired controllers, encased battery, solar panels, and a wireless throttle for light electric vehicles. Daymak's accolades include the Clean Tech North Award, Profit Magazine's Top 100, 200 & 500 Canada's Fastest Growing Companies, and it was also named one of Ontario's greenest companies.
Contact Info:
If you have any questions regarding information in these press releases please contact the company listed in the press release. Our complete disclaimer appears here. For media inquiries, meeting requests or to receive a full press kit please contact Daniel Cargnello at daniel(at)daymak(dot)com or visit http://www.photonscooter.com Tel.416.658.3993x258 Fax.416.749.3424