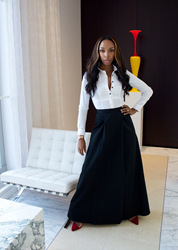 Atlanta, Georgia (PRWEB) June 14, 2015
Shayzon Prince is the Vice President of the local Parent-Teacher Organization (PTO) in the small town of Locust Grove, Georgia. As a helicopter mom and a no nonsense businesswoman, she still manages to devote time to fundraising for her children's school. The ups, downs, and hard work it takes to stick to the goals of the PTO, Shayzon still remains fashionable and strong-minded through it all. Stylish, OCD, germaphobe, and being a straight shooter are a few things you may get from Shayzon this season as she navigates dealing with children and the adults of the PTO. You can see Shayzon taking it all on as Second in Command and playing the role between her board members as Executive Peace Maker with her television debut in "Mother Funders" on Bravo, which premieres June 14 at 9 p.m.
Although she works full-time as a style expert, makeup artist and developing her lifestyle brand, the events she puts on are the talk of the town. Plus with her rolodex full of influencers and celebrities, the PTO's fundraisers are the place to see and be seen.
About Shayzon Prince
Shayzon Prince is a TV personality born with a creative and artistic soul in the parish of Mandeville, Manchester on the beautiful island of Jamaica. She has two children, Arlington and London, and has been happily married 15 years to her husband Michael. Shayzon is also the Founder and Editor-in-Chief of the Lifestyle Brand CHICified. CHICified highlights how to live a GLAMOROUS LifeStyle, achieve FABULOUS Fashion and FLAWLESS Beauty from H2T (head to toe). CHICified also shares brilliant tips on how to be an intelligent shopper and how to work with a savvy budget. Shayzon has also been the lead hair & makeup artist at Mercedez-Benz Fashion Week, her work has graced the covers and pages of international publications and she has adorned the faces of celebrities, anchors, politicians, TV hosts, models, brides, and royalty.
About "Mother Funders"
Following a passionate Parent Teacher Organization (PTO) in the small town of Locust Grove, Georgia, this group holds benefits to raise and donate money to their kids' local elementary school. Through lavish fundraising events from a Black Tie Gala to a Pink Pajama Party, these mothers must work together and adhere to the strict rules and high expectations of their demanding commander-in-chief.
"Mother Funders" premieres June 14 at 9 p.m. on Bravo. For a sneak peak, visit http://www.bravotv.com/mother-funders/videos/playlist?cli....