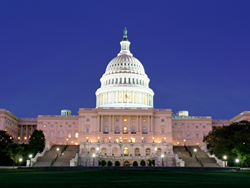 Our new Washington, DC location provides our business and government clients with a central easy to reach training center
New York, New York (PRWEB) June 16, 2015
NetCom Learning, the experts in managed training solutions, announce the opening of a new location in Washington, DC, providing students in the DC area with a convenient training center. The new training center at 1627 K St, NW, Suite 910 in Washington, DC, is located close to major federal government agencies and many DC businesses. As a General Services Administration (GSA) approved Small Business Vendor, NetCom Learning can now provide easy access for federal government clients to attend training classes. Adding to the center's convenience, the central Washington location is near to metro stations, hotels and dining. For students flying into DC for training, the training center is a quick shuttle ride from the Washington Dulles Airport or Reagan National Airport.
The Washington, DC training center joins NetCom Learning's training locations located around the country including centers in New Jersey, Nevada, Illinois, Massachusetts and NetCom Learning's headquarters in New York City. NetCom Learning also offers custom Live Online training online or on-site training on a international basis.
"Our new Washington, DC location provides our business and government clients with a central easy to reach training center," said Russell Sarder, CEO of NetCom Learning.
The new NetCom Learning Training Center provides convenient well equipped training classrooms with on-site technical support staff. The center is located near metro stations within easy access of hotels including the Hamilton Crowne Plaza, Club Quarters, Hotel Lombardy, the Quincy, Capital Hilton, and the St. Gregory Hotel. Restaurants within nearby access to the Training Center include Soho Buffet, Roti Mediterranean Grill, and P.J. Clarkes.
For more information on NetCom Learning's Washington, DC Training Center visit http://www.netcomlearning.com/locations/trainingcenter.phtml?code=DC1&t=6
Benefits of taking technical training with NetCom Learning
NetCom Learning is an award-winning global leader in managed learning services, training, and talent development. NetCom Learning is honored to be recognized as Microsoft's Worldwide Training Partner of the Year by Microsoft, and as a Top 20 IT Training Company by TrainingIndustry.com for three years. NetCom Learning offers over 1,500 courses available to organizations around the world, encompassing all technology and business training needs. From authorized or foundational training to specialized certifications, NetCom Learning empowers organizations to achieve a competitive advantage. In addition, NetCom Learning provides customers with a choice of customized private programs, convenient scheduling options, flexible delivery formats, and continuous learning support, all tailored towards minimizing the skills gap and gaining maximum business impact for your organization.
About NetCom Learning
We are NetCom Learning. We promote the values of lifelong learning.
NetCom Learning is an award-winning global leader in managed learning services, training, and talent development. Since 1998, we've been in the business of helping organizations reach optimal performance results and address challenges by managing all aspects of organizational learning.
With a team of dedicated and knowledgeable learning professionals having deep subject-matter expertise, NetCom Learning has serviced over 80% of Fortune 100 companies. We've helped over 10,000 organizations achieve their business goals by offering a full complement of Managed Learning Services, including IT and business training, curriculum design and content development, learning delivery and administration, consulting and advisory services, and management of learning technology.
We believe that an organization's ability to learn—and translate that learning into rapid action—is the ultimate competitive advantage.
For more information, visit http://www.netcomlearning.com