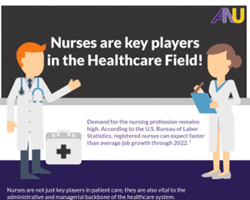 The BSN degree can enhance a nurse's knowledge...and empower them
(Roanoke, VA) (PRWEB) June 16, 2015
American National University, a career college with campuses in six states, has created a brand new infographic that highlights the many benefits of the Bachelor of Science degree in nursing. "Nurses are Key Players in the Healthcare Field" explains how a BSN can help nurses advance their careers.
Noting the vital role nurses play in the healthcare field, the infographic states that the BSN is becoming a "nursing standard of excellence." It outlines how the BSN degree can enhance a nurse's knowledge, add to their skillset, and empower them to make even greater impact on the quality patient care they already provide. It enables them to combine clinical reasoning, critical thinking and holistic practices to serve a patient population that is growingly diverse. According to the infographic, the BSN degree opens up more leadership opportunities for nurses and leads to better overall job satisfaction. The BSN also helps nurses find employment and earn more over the span of their careers.
Highlighting its own RN to BSN program, American National University gives examples of how it prepares nurses to be effective leaders in healthcare. With an emphasis on expanding nurses' knowledge of public health policy and community outreach, the fully online program teaches nurses healthcare administration in the context of government, community, and social and non-profit organizations. It shows them how to use the most current technologies to research, analyze and resolve health care challenges and issues. The ANU RN to BSN program is for nurses who already hold an Associate's degree and RN license and is designed to give those nurses a competitive edge.
For more information about the many benefits of attaining a BSN degree, those interested can access the infographic now or visit the school's website for more details.
About American National University:
American National University is a career-focused institution that offers more than 45 academic programs through 31 community-based campuses in six states, and online in many more states. Founded in 1886, ANU has a long history of providing essential skills to an evolving workforce and it remains committed to doing so into the 21st century and beyond. ANU has won numerous awards including the Association for Private Sector Colleges & Universities TOPS Award (2012), the Top 15% Military Friendly School (2010-2015), and a Lifetime Achievement Award (Imagine America Foundation, 2012) recognizing American National University President Frank Longaker's 40 years of service to the career college sector. American National University is accredited through the Accrediting Council for Independent Colleges and Schools.