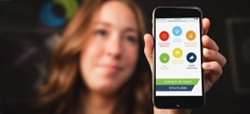 iStock photos don't run this company; people do
(Andover, MA) (PRWEB) June 16, 2015
Effective Student Marketing Inc., a national digital marketing firm specializing in higher education, has just launched its brand new website: http://www.effectivestudentmarketing.com. The site is just one facet of a multi-pronged rebranding campaign designed to mark the company's ten-year anniversary and provide its clients with easy access to its full range of services.
The new site has a contemporary layout and a bright and bold color palette pulled from the company's newly designed logo. It scrolls through the company's services, blog, and case studies. Members of the Effective Student Marketing team are featured throughout the site, offering a glimpse into the agency's culture. The site is user friendly and fully responsive, with a variety of fast-loading dynamic components.
"We're really excited about the launch of our new website," said company president Andy Kelley. "It's a better representation of who we are and all we have to offer. I'm especially happy that we had someone come in and photograph my team in action because iStock photos don't run this company; people do. I wanted our clients to get a feel for how we really work together and to know that the strength of our company is the people who work here. We also wanted the site to engage and inform, while being very easy to access and navigate. The new site achieves all of those goals."
Among the features of the site are case studies that present actual client stories with accompanying data, and a resource library that touches on a variety of industry trends and topics. According to Kelley, the site design is the culmination of his own vision for the company he founded in 2004 and the tireless efforts of his staff and design firm. Kelley says that the site will offer clients an easy way to find out about Effective Student Marketing, but will also serve as an example of the design features that produce results in lead generation. He notes that the website is search engine optimized and mobile-friendly.
"We always urge our clients to be aware of the impact their website should make," said Kelley, "so of course, we need to lead by example."
About Effective Student Marketing:
Effective Student Marketing is a digital marketing agency and Google Partner that embraces transparency and results-oriented marketing. It integrates marketing strategies that use social media marketing, paid search advertising, and content creation to help institutions of higher education engage with students, graduates and future students to achieve their student enrollment and retention goals. Andy Kelley founded the company in 2004 and he and his team have a "we'll figure it out" philosophy that combines creativity and technology to stay on top of the latest tactics and trends in the digital marketing industry for higher education. More information about their services is available at: http://effectivestudentmarketing.com/