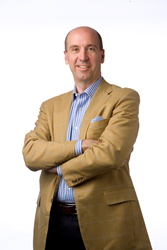 How does a business leader prepare for a constantly changing future? The answer can be found in a simple acronym: AHA. It stands for: Awareness, Humility and Action.
Helena, Montana (PRWEB) June 16, 2015
Recent advances in technology have not only refined but redefined the gas and oil industry. Over the past two decades alone a wide variety of technological innovations have increased the ability to access and process crude oil and natural gas. The removal of natural gas from a variety of areas once thought to be too arduous to approach, are now an open playing field and they are quite literally transforming the industry all across the U.S. and Canada. A highly noted thought leader on innovation, global futurist Jack Uldrich has been invited to address future trends and technological innovations in the oil industry with one of Canada's largest integrated oil companies today in Calgary, Canada.
According to Uldrich,"Technological innovation has played an absolutely undeniable role in the advancement of the oil industry, and it will continue to be so in the years ahead." He will discuss advances ranging from 3-D and 4-D seismology to improvements in distillation as well as the latest advancements in fracking, which will address how oil companies will explore, drill, produce, process and distribute products. Uldrich says, "The future is going to reveal tremendous progress when it comes to this field. And it will be critical for energy companies to consider how they utilize nanotechnology, biotechnology, and other sustainable solutions."
Uldrich will deliver his keynote, "The Big AHA: How to Innovate into an Uncertain World." In the address he will tackle these advances in more depth with his client, and he will challenge them to embrace them with his leadership concept of the Big AHA. AHA is an acronym that stands for Awareness, Humility and Action.
Uldrich's seeks to help his audiences thrive in increasingly competitive energy markets. He has worked with a number of companies and dozens of trade associations in the utility industry including the Southeastern Electric Exchange (SEE), the American Public Power Association (APPA), North Carolina's Energy Coops, the National Fluid Power Association (NFPA), ABB, CleaResults, the Western Energy Institute, Southern Company, SDG&E, SMUD, Eaton, BP, the National Rural Electric Cooperative Association, Missouri River Energy, Northwest Energy, Idaho Power and the Northeast and Northwest Public Power Associations, among others.
Parties interested in Uldrich may learn more about his work and upcoming engagements on his website.