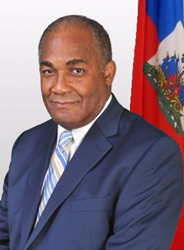 I have heard your stories, I have heard your cries, I have heard your pleas. Let us work together to recreate Haiti. Let's put aside our differences, our bickering and set higher goals, ethics and standards for our children, our country and ourselves
Larchmont, New York (PRWEB) June 21, 2015
Anoki Communications announces that on June 12, 2015 Haiti's Electoral Council accepted the candidacy of Renowned New York Physician, Dr. Kesler Dalmacy, to run for President of Haiti. Dr. Dalmacy, a Board Certified physician specialist in Pathology, Preventive Medicine and Public Health, who has practiced medicine for decades in Haiti and the US, and currently resides in Haiti, will run for the presidency of Haiti in the 2015 upcoming election.
According to Dr. Marie-Ange D. Tardieu who collaborated on a number of Public Health projects with the candidate, "Dr. Dalmacy is not running for president to oppose any other political parties or candidates. Dr. Dalmacy is in the race to implement new policies to reconstruct Haiti. – Policies to make the streets of Haiti safer, policies to build Haiti's infrastructures, policies to reduce the literacy gap among Haitians, policies to create jobs for Haiti, to improve health care, public health, and rebuild Haiti's economy."
In a live interview conducted at his Kenscoff residence on May 25th, 2015 Dr. Dalmacy reflected on the growing crisis of insecurity, insalubrities on the streets of the capital city, declining economy, lack of health care access and the anemic rate of job creation that have plagued the nation since its independence from France in 1804. He acknowledged that: "Although previous presidents tried to resolve these crisis, whatever few interventions they made, the results can only be viewed as mixed or negligible." ….
"It pains me to see Haiti continuously dwindling back and forth into decline. I love my country so much and have devoted my life to the service of my country, of my compatriots, and to the service of the community of Haitians living abroad in US and Canada."… "Since my return, I have toured the whole land of Haiti on a number of occasions, have worked side by side, met with and talked to Haitians of all corners of Haiti. I have seen their faces and cared for them– the young and the old, the rich and the poor, the healthy and the sick, the educated and analphabet."
… "I have met face-to-face with a large number of Haitians in need of medical and psychological interventions -- those living in Haiti, those living abroad in the Diaspora. I have read thousands and thousands of letters addressing me about their growing concerns. I took notes of their concerns, worked with them, helped them, and supported them during the course of my clinical practice."
When asked about what to tell his compatriots about the primary reason he returned to the homeland and entered the presidential race, this is what Dr. Dalmacy had to say to all Haitians:
"I have heard your stories, I have heard your cries, and I have heard your pleas. You told me about inexcusable deprivation, which caused your children to starve, your loved ones to die young of insignificant and preventable illnesses. You told me about your despise of the insalubrities on the streets, which causes you to have breathing difficulties. You also told me of despair causing you and your children to take on to the streets. You told me of being denied access to standard education, health care..."
"You told me of your family members, young men and women, facing so much despair that they had to commit all sorts of atrocities, at times leading them to sell their bodies or commit suicide because they have lost all hope and have no future in their own country. You came to my office with physical and psychological pain of all kinds, duration and intensity; pain unheard of in the medical literature and that only a government with essential policies in place can prevent and solve."
"I have heard you, I took notes, and now I can no longer stand aside. I am determined to care for you by offering myself to be your president." …"As you all know, it is a race against 57 candidates. The race is just beginning. It will not be easy, but with you as my partners, I can win."
"No one should ignore that the country has seen some sign of progress with President Martelly. We Haitians can all see that he started the building of few roads, the establishment of a few educational programs, few new schools; but we can do better. You and I will do better. We can also have better transparency, sustainability, and accountability. I offer myself to continue to build upon where others have left off, improve, and recreate the Haiti we all so love and cherish: Our Haiti Cheri, our home."
"Let us work together to reshape our economy. Let us put aside our differences, our bickering and set higher goals, ethics and standards for our children, for our country, our schools and ourselves. Let us provide those in charge of caring for our children the resources they need to succeed. Haitian children are the future of Haiti."
"Let us partner with our mothers, our fathers, teachers and clergymen to promote better value system, work ethics, education and skills for our youths."
"Let us work to promote better access to health care, public health and education for all Haitians."
"As we make our streets safer, as we improve our economy, and promote better health care and educational access for all, we can make it possible for all Haitians to rejoice in the prosperity of the nation of Haiti. Together, we can."
"In so doing, we can ensure that every Haitian can walk on the streets of Haiti, proud to be Haitian and free of worries of insecurity, unemployment, illiteracy, a Haiti clean, free of insalubrities on the streets and free of preventable diseases,"
"Finally, this campaign is not about me, it is about what we, all Haitians -- regardless of our political party or affiliation -- can do together to help Haiti reach its potential and make it a better and safer place for our children, and for our future."
"Together we can, and we will."
Contacts:
Mimi, Media Rep of Anoki Coms: drkesler05(at)AOL(dot)com
Facebook: Dr Kesler Dalmacy
Web site: DrKeslerDalmacy.com