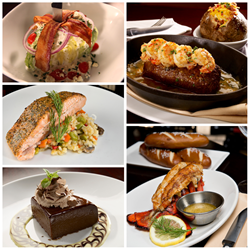 We've put together a great Father's Day menu with amazing food that will make dad's feel truly special. And with great pairings like rich cabernets and more than 60 different scotches and whiskeys to choose from, dads are sure to feel appreciated."
Phoenix, Arizona (PRWEB) June 15, 2015
Arizonans can give dad the decadent Father's Day he's hoping for with a dazzling dining experience at Arrowhead Grill that speaks to his masculine side on June 21.
The Father's Day menu, available from from 11 a.m. to 3 p.m., includes the choice of a starter, entrée and side for just $42.99 per person. Extensive wine, whiskey and scotch menus will be available for perfect pairings that dazzle the senses.
"We've put together a great Father's Day menu with amazing food that will make dads feel truly special," said Chef Charles Schwerd, owner of Arrowhead Grill. "And with great pairings like rich cabernet's and more than 60 different scotches and whiskeys to choose from, dad's are sure to feel appreciated."
Arrowhead Grill's fresh, crisp salads create a perfect beginning for an amazing meal he'll savor, featuring his choice of AG's chopped salad, house salad with iceberg lettuce tossed in signature house dressing with thinly sliced red onions, carrots, croutons, Kalamata olives and Parmigiano-Reggiano cheese, a classic Caesar salad or French onion soup or clam chowder.
He'll indulge in his choice of decadent entrées, including AG's famous Delmonico steak, created from the original 1894 recipe, a tender Applewood Bacon Wrapped Filet, slow roasted Prime Rib, or half of a New Zealand Lamb Rack.
For the seafood lover, choices include Atlantic salmon or swordfish and the option to add an eight-ounce lobster tail to any entrée for $14.99.
Take the experience to another level with drink pairings that dazzle his senses, including wines from around the world that can be purchased by the bottle to accompany the meal, or by the glass for perfect course pairings.
Treat the man of the hour to true decadence with a whiskey or scotch pairing. With more than 30 varieties of both scotch and whiskey to choose from, including 23-year-old Elijah Craig, $56.99 a glass, and Royal Crown XR, $45.99 a glass, and wonderful varieties like Maker's Mark, $10.99 a glass, and Pappy Van Winkle's 12 year, $29.99 a glass, he'll be impressed by the selection and revel in the experience.
End dinner in style with your choice of desserts, from Arrowhead's signature Butter Cake, warm flourless chocolate cake, classic cheesecake, vanilla crème brûlée and more, $3.99 each.
Reservations are required at (623) 566-2224 or online at http://www.arrowheadgrill.com/reservations.
A children's menu is available throughout the day by request, and Arrowhead Grill will be servings its full menu and prime rib special from 3 to 9 p.m.
Known as the west Valley's best steakhouse, Arrowhead Grill is located at 8280 W. Union Hills Dr., Glendale, AZ 85308.
To get the latest news on Arrowhead Grill's daily specials, follow Arrowhead Grill on Twitter at http://www.twitter.com/arrowheadgrill or on Facebook at http://www.facebook.com/arrowheadgrill.
About Arrowhead Grill
Established in 2008 by renowned Valley chef Charles Wade Schwerd, Arrowhead Grill epitomizes Schwerd's two decades of steakhouse experience, offering Valley residents a diverse menu of top quality steak and seafood items. Featuring all natural meats and fresh, mercury-free seafood selected especially for Arrowhead Grill's host of menu items, the Glendale-based restaurant offers something for everyone in a setting that's unpretentious yet sophisticated. For more information, please visit http://www.arrowheadgrill.com.