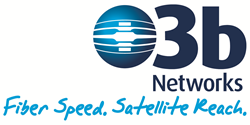 St. John, Jersey, Channel Islands/Pago Pago, American Samoa (PRWEB) June 15, 2015
O3b Networks today announced that the American Samoa Telecommunications Authority (ASTCA) has deployed its O3bTrunk. The contract includes a commitment for 1.2Gbps which more than doubles its backhaul and Internet capacity for the entire Samoan archipelago and provides a safety net in the event of a failure of its submarine fiber system. Prior to the O3b launch American Samoa and the Independent State of Samoa were serviced only by the aging American Samoa Hawaii (ASH) submarine cable.
ASTCA's unique and innovative implementation of its O3bTrunk blends satellite broadband with submarine fiber optic capacity. With this implementation customers will see a blended latency of less than 90ms throughout the day.
Low latencies are required for many critical manufacturing, financial, and business applications, and ASTCA can now deliver flexible low latency capacity, with redundant reliability, anywhere in American Samoa via their brand new Fiber to the Premises (FTTx) network that is due for completion by June 30, 2015.
"We are excited and pleased with the launch of the O3bTrunk solution and how well it has blended with the existing submarine fiber optic capacity. Internet access is extremely important to the way our Territory is changing and greatly impacts our ability to integrate with the world economy and participate in opportunities that require technological foundations. ", said Roy Hall, Jr., ASTCA Chairman.
"The O3b Trunk is also critical to the success of our Broadband Linking the American Samoa Territory (B.L.A.S.T.) Project which will link the main islands of American Samoa making it possible to deliver true broadband services to every household, business, and critical institution in the Territory."
The data explosion happening everywhere in the developed world is artificially constrained in many remote areas like American Samoa by a single aging fiber cable or traditional geostationary satellite connections. The increased capacity, lower latency, resiliency, and redundancy of the O3b Networks constellation releases those constraints and provides a scalable, strategic infrastructure to support online education, telemedicine, e-government, and social media.
"We're proud to have been integral to ASTCA's delivery of affordable, state-of-the-art broadband capacity to all citizens, visitors, and businesses in American Samoa," said John Finney, Chief Commercial Officer for O3b Networks. "Their efforts have doubled the broadband capacity available to territory residents, which has significantly improved network speeds, network reliability, and provided redundancy for the submarine fiber optic system."
###
About O3b Networks Limited
O3b Networks Limited is a global satellite service provider offering a next-generation satellite network for telecommunications operators, Internet service providers, enterprise and government customers in emerging markets. The O3b system combines the global reach of satellite with the speed of a fiber‐optic network providing billions of consumers and businesses in nearly 180 countries with low‐cost, high‐speed, low latency Internet and mobile connectivity. O3b Networks' investors include SES, Google, Liberty Global, HSBC Principal Investments, Northbridge Venture Partners, Allen & Company, Development Bank of Southern Africa, Sofina, Satya Capital and Luxempart. O3b Networks is headquartered in St. Helier, Jersey, Channel Islands.
About ASTCA
American Samoa Telecommunications Authority (ASTCA) is the government owned incumbent Local Exchange Carrier and telecommunications provider in the U.S. Territory of America Samoa. Previously operated under the auspices of the Office of Public Works (1963), and later as the Office of Communications (1972), ASTCA was created via Executive Order as an enterprise fund in 1998. In 2009 ASTCA was awarded a US $91 million project by the United States Department of Agriculture (USDA) Rural Utility Services (RUS) to build and deploy a fiber to the premises network aptly named Broadband Linking the American Samoa Territory (B.L.A.S.T.). ASTCA also operates an Internet Service Provider, Long Distance Exchange, and Mobile CDMA network with EVDO Rev. A (3G) data