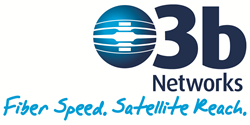 St. Helier, Jersey, Channel Islands (PRWEB) June 15, 2015
O3b Networks today announced an agreement to provide additional trunking services to Digicel PNG in Papua New Guinea, the Digicel Group's largest market. Because of the demand for additional internet bandwidth in Port Moresby, the capital city of PNG , O3b Networks has two high throughput, low latency beams from its Medium Earth Orbit (MEO) satellites fixed on Port Moresby for Digicel.
Digicel started O3bTrunk services in July 2014, and increased the capacity in February 2015, and only three months later increased the capacity again , nearly a 150% increase in data throughput from the initial start of service.
With well over 7 million people, Papua New Guinea is the largest market Digicel serves in the Pacific. The connectivity provided by O3b is fueling Digicel Broadband Mobile Network for businesses, as well as consumers. Businesses across the capital can access the internet through a Digicel Broadband Wireless Modem, while consumers use their smart phones to access the network via the 3G network (http://broadband.digicelpng.com/broadband.html).
The use of O3b satellites, which are closer to the earth than conventional geostationary (GEO) satellites, reduces latency, increases internet speed and improves voice and video quality for the user. O3b's next generation IP trunking solution boosts existing link capacities to rival the affordability and latency of terrestrial fiber.
"Our customers' need for speed and reliability is at the core of our partnership with O3B," said Michael Murphy, CEO of Digicel Pacific. "With our O3B link we have been able to provide both better speeds nationwide and radically improve the reliability of our connectivity. We have multiple off-island trunks to ensure consistent, dependable coverage for our clients. This is of tremendous value to our business and internet users."
"O3b has been an excellent partner to grow with," said Maurice McCarthy, CEO of Digicel PNG. "Digicel promotes faster downloads, higher productivity and better value—now our customers can easily work with large files from their phones or laptops, anytime. The productivity gains are a direct result of the low latency and high throughput of the O3b Network."
"O3b is thrilled with the growth we've seen with Digicel PNG," said Imran Malik, VP Asia Pacific & the Middle East for O3b. "No one should doubt the appetite for broadband speed internet in Papua New Guinea. Digicel's customers continue to use all the bandwidth they are provided, and fortunately O3b is architected to meet a rapid demand escalation situation just like this."
About O3b Networks Limited
O3b Networks Limited is a global satellite service provider operating a next-generation satellite network for telecommunications operators, Internet service providers, enterprise and government customers in emerging markets. The O3b system combines the global reach of satellite with the speed of a fiber‐optic network providing billions of consumers and businesses in nearly 180 countries with low‐cost, high‐speed, low latency Internet and mobile connectivity. O3b Networks' investors include SES, Google, Liberty Global, HSBC Principal Investments, Northbridge Venture Partners, Allen & Company, Development Bank of Southern Africa, Sofina, Satya Capital and Luxempart. O3b Networks is headquartered in St. Helier, Jersey, Channel Islands.
About Digicel PNG
Digicel Group is a leading global communications provider with operations in 33 markets in the Caribbean, Central America and Asia Pacific. After 13 years of operation, total investment to date stands at over US$5 billion worldwide. The company is renowned for delivering best value, best service and best network.