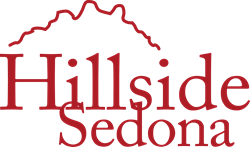 "Hillside Sedona is a beautiful location for a coffee and yogurt shop, boutique, spa offering services such as massage", said Karen Reynolds Dilks, Property Manager
PHOENIX, AZ (PRWEB) June 15, 2015
Recently renovated Hillside Sedona, is offering new leasing opportunities. The prime retail property has recently undergone renovations including new exterior color and paint, updated lighting fixtures and signage. Hillside is home to some of the most unique boutiques in Sedona.
Hillside Sedona, a prime retail property located at 671 SR 179 Sedona, AZ 86336. Currently space is available from 800 square feet to 3,000 square feet, prime courtyard space suitable for boutiques, galleries, and other shops such as coffee or yogurt. The property is surrounded by the Red Rocks with gorgeous views from every angle.
Conveniently located off of State Route 179 in Sedona, a heavily-trafficked retail area, it is surrounded by longtime tenants including the famous Javalina Cantina, James Ratliff Art Galleries, Tea Light Cafe' and The Bridge at Sedona wedding and event venue, among other boutiques, salon and Mooney's Irish Pub. Hillside Sedona is also known for its ongoing events such as Mamma Mia, Fashion Shows, First Friday's Art Gallery Tour and more.
"Hillside Sedona is a beautiful location for a coffee and yogurt shop, boutique, spa offering services such as massage", said Karen Reynolds Dilks, Property Manager and "A Step up" boutique owner at Hillside Sedona. "We are also very excited to announce the opening of a new restaurant in late summer at Hillside Sedona that features a Valley award winning chef ."
For more information on Hillside Sedona and leasing opportunities, contact Karen Reynolds at kreynoldsdilks1@gmail.com or 520 921-2930.
Hillside Sedona:
In 1986, Shirley Caris developed Hillside Sedona, bringing to it the spirit of nature, artistic qualities and the essence of the town she now called home. An upscale retail shopping center, Hillside Sedona is home to fine art galleries, unique boutiques, a variety of restaurants, locally owned shops and the event venue, The Bridge at Hillside. The popular Northern Arizona destination is filled with sites and attractions that are sources of inspiration to many. In a setting with a view of the Red Rocks that surround the property, Hillside Sedona also is a perfect destination location for photography. http://www.HillsideSedona.net
XXX
Media contact:
Christine Holtz
Phoenix Marketing Associates
602-282-0202