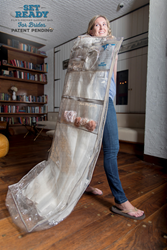 "Set Ready is more than just a garment bag; it's the keeper of memories that have passed and those to come."
New York, NY (PRWEB) June 16, 2015
Set Ready [set] [redē] adj. Film term meaning a person or item is fully prepared to be in front of the camera.
Set Ready Garment Bag's creator, Sarah Cogan, is a "triple threat," award-nominated designer and has been designing for almost ten years. Her most recently credits include assistant costume designer on National Geographic's American Genius and second assistant costume designer on NBC's The Slap.
While in the costume shop, Cogan faced a major organizational problem when packing looks to send to set: All of the accessories were stuck in ziplock baggies and safety pinned to inside of the garment bag with the rest of the clothes, making it difficult to see if everything was present and accounted. Plus, the safety pins would rip through the garment bag and baggies causing excess waste.
To solve this problem, Cogan created Set Ready, a garment bag that requires no added baggies with visible exterior pockets for jewelry, notes, accessories, and even shoes. Set Ready's provided reassurance everything was present.
Quickly, Cogan realized brides would benefit the most from Set Ready, and she set out to create the ultimate wedding bag, complete with a separate veil pocket, vows pocket, and gusset that runs all the way around the bag keeping it from pinching in on the hem of the dress.
"A woman's bridal look is planned for more than four months before their big day with little thought to its complete storage leading up to its wedding aisle debut until now," Cogan said. "At Set Ready, we believe women mark milestone moments in their life through their clothing and want to give homage to the cultivation of these meaningful looks. As the pieces come together for the first time, the bride begins to envision what she will look like, be like, on her special day."
The patent pending design features:

Small and large jewelry pockets plus gusseted small and medium pockets
Vow and reminders pockets
Large shoe and hat pocket
Veil slot to keep it from snagging
Zipper for easy access
Gusset starting at the shoulder to allow room for large sleeves or extra pieces and wrapping around, keeping the bottom of the garment bag from pinching in on the hem of the dress
Re-enforced hanger access hole runs front to back to allow for hanger stacking
Spine tag for easy identification when hanging
Each Set Ready Wedding Bag comes with a special wooden hanger stating "The One" and packaged in a box fit with a bow, retailing at $79.99.
On June 21st at 3p EST, Set Ready is launching a $150,000 pre-sale Kickstarter campaign which closes at 11:59 pm PST on July 19th. Early-bird specials are up to 45% off retail price and include tickets to Set Ready's launch party.
As with all weddings or commitment ceremonies, Set Ready's successful campaign will end with a celebration at New York City's music venue, Le Poisson Rouge on July 26th. Tickets are limited to 650, with live streaming for its backers nationwide.
Along with Wedding Bag pre-sales, Set Ready's founder is offering exclusive star treatment experiences from being the Bride's personal dresser for their big day just like in the movies or with cultivated shopping trips to New York City.
As part of their social media marketing campaign, Set Ready hosted a Styling Party photo shoot for New York stylist feature Brooklyn and New York bridal companies such as Rebecca Schoneveld, Samantha Sleeper, Untamed Bridal, Ceremonia NYC, Brownstone Bridal and Marionat Veils. For photos from the shoot, please visit Set Ready's Instagram, Facebook or Pinterest.
Sarah Cogan and her team believe Set Ready is more than just a garment bag; it's the keeper of memories that have passed and those to come. They are excited to become an integral part of brides' wedding experience.