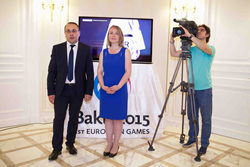 Paris, France (PRWEB UK) 15 June 2015
In celebration of the opening ceremony of the Baku2015 European Games, the French office of The European Azerbaijan Society (TEAS) foundation and the Azerbaijani Embassy in France invited more than 60 people to the Azerbaijani Cultural Centre in Paris to view a live screening of the event on channel Equipe21. This was followed by a cocktail reception, accompanied by the best in Azerbaijani cuisine.
Attendees included diplomats; a representative of the French Olympic committee; representatives of French companies, including TOTAL, Bouygues Construction and Galeries Lafayette; and members of the Azerbaijani diaspora.
In the welcoming speeches, Ayaz Gojayev, First Secretary, Azerbaijani Embassy in France, and Mrs Marie-Laetitia Gourdin, Director, TEAS France, underlined the historical importance of Azerbaijan hosting the first edition of the European Games, where athletes represent all countries in the continent. This demonstrates the universality of sport and its power as a coalescing force.
Astonished by the beauty of the opening ceremony, the audience applauded several times, notably for the allegory of the Taurus Europa creating the shape of the European continent under its hoofs, as if by magic. This served to illustrate the geographic unity of this continent, and the natural place of Azerbaijan within Europe.