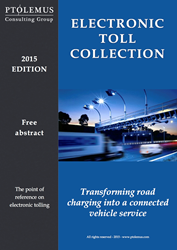 Road charging is becoming free flow with 63% of today's brownfield sites expected to make the switch by 2025
London (PRWEB) June 22, 2015
PTOLEMUS Consulting Group has announced the launch of the Electronic Toll Collection (ETC) Global Study. The 650-page reference document analyses and quantifies the road charging market in 35 countries worldwide and demonstrates the inevitable convergence with other connected vehicle services.
The report is the most comprehensive ever published on tolling; it includes a neutral and in-depth strategic, technology and market trends assessment of the Road User Charging (RUC) markets globally. Readers will also find a quantitative assessment of the current size and development potentials for 35 countries worldwide as well as a bottom-up market forecast to 2025.
A free 95-page abstract of the study brings together the critical findings of 2 years of research. Some of the key findings of the study include:

As hundreds of billions are missing from government budgets to build and maintain road infrastructure, tolling is emerging as the go-to solution.
Tolling is becoming electronic: the global road charging market is set to double between 2016 and 2025 to reach 400 million subscriptions.
Barriers are falling. Road charging is becoming free-flow with 63% of today's brownfield sites expected to make the switch by 2025.
ETC is morphing into the wireless payment of the car, integrated with other connected vehicle services.
The abstract starts with interviews of 4 key names in the industry:
Marc Billet, Head of EU Goods Transport at the International Road Transport Union (IRU), representing the transporter paying for the toll;
Peter Ummenhofer, VP Solution Management Division and Marcus Handl, Investor Relations & Strategy Officer at Kapsch TrafficCom, the biggest solution provider in the toll industry;
Martin Stone, General Manager of Egis Projects USA managing the most important interoperability project, the ATI HUB.
The complimentary report also details the fundamentals of the tolling market including the major strategic and technology trends and their effect on the transport market globally.
Download the abstract here. For more information about the full study, please contact thomas(at)ptolemus(dot)com
About PTOLEMUS
PTOLEMUS Consulting Group is the first strategy consulting firm entirely focused on connected vehicle services and the Internet of Things (IoT). Present in Europe and North America, PTOLEMUS assists leading toll service providers, road operators and all connected vehicle stakeholders in defining and executing their strategy and operations.