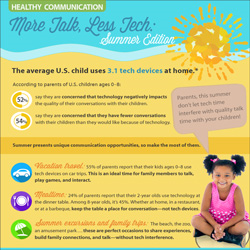 Rockville, MD (PRWEB) June 15, 2015
The average U.S. child ages 0-8 uses 3.1 tech devices at home. This summer, the American Speech-Language-Hearing Association (ASHA) encourages parents to make the most of summer's unique communication opportunities. Don't let tech time replace quality talk time with your children!
Infographic available here.