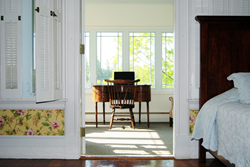 No such program on this scale supports exclusively nonfiction reporters and writers
Rensselaerville, NY (PRWEB) June 15, 2015
The Carey Institute for Global Good, set to open a new program in October, has selected the first five residents.
They are: Rania Abouzeid, a Beirut-based freelancer with a manuscript based on her four years of reporting from inside war-torn Syria; Dan Egan, a Pulitzer finalist finishing his book on the life and death of the Great Lakes; Diana Markosian, an Armenian-American photojournalist documenting the 1915 Armenian genocide; Catalina Lobo-Guerrero, a foreign correspondent working on a book about the failed regime of the late President Hugo Chavez in Venezuela; and Jefferson Morley, an author and journalist completing the first biography of James Jesus Angleton, the legendary chief of counterintelligence for the CIA from 1952 to 1974. More information on the recipients is available on the Carey Institute website.
"If not for the months of peace and solitude this nonfiction residency provides, the work of these reporters and writers might never see the light of day," said Program Director and Pulitzer Prize recipient Tim Weiner. "No such program on this scale supports exclusively nonfiction reporters and writers – people whose work is crucial for informing public understanding of the world's most urgent problems."
Josh Friedman, Vice Chair of the Carey Institute and Pulitzer Prize winning journalist noted that "ten additional residents will be chosen for the October-December session. Together, these fifteen writers will produce work that is vital to democracy and sound public policy."
Residencies can range from 3 weeks to three months. Lodging, food, work space, technological support and mentorship, if desired, are provided. Applications for the program's first class are currently being accepted online at the Carey Institute website until July 15th.
In an age of ever-increasing media outlets, the sources of today's news stories are actually dropping in number. From belt-tightening at traditional print media, to the grueling demands of the up-to-the minute digital headlines, more media outlets are trying to do journalism with fewer people and dwindling resources. The result is a shrinking number of originally produced print and broadcast stories, according to data from the Pew Research Center. A quarter of local news television stations don't produce their own content. This comes at a time when consumer demand for unique, investigative and long-form nonfiction work in both traditional and digital media is growing. The Nonfiction Residency Program intends to fill that gap.
ABOUT
The Carey Institute for Global Good is a not-for-profit organization founded in 2012 by Wm. P. Carey and is dedicated to making the world better by contributing to a strong, educated and just society. Through its programs, the Institute strives to bring together innovative and dynamic people from around the world to seek creative solutions to the most pressing challenges of the day.
# # #
For more information on the program, or to schedule an interview with Tim Weiner, Program Director, Josh Friedman, Vice Chair of the Institute or a Residency recipient, please contact Leah Hennessy at The Carey Institute for Global Good at lhennessy(at)careyinstitute(dot)org or call 518-797-5100.