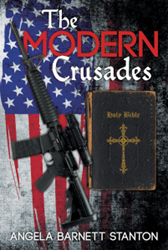 The act of terrorism is just the first volley in a new war starting all over the world.
SAN LEON, Texas –
(PRWEB) June 17, 2015 -- The meaning of Black Friday changes forever in 2014, thanks to hundreds of explosions in shopping malls all over the United States, Germany, China, Japan and the United Kingdom. The act of terrorism is just the first volley in a new war starting all over the world, although the characters in this new novel don't realize it yet. Bombings in synagogues and churches of all denominations on Christmas Eve kill hundreds of thousands and injure thousands more.
Eventually it becomes clear the attacks are the beginning of a plan to redesign the United States and other nations into a Muslim state, converting the world's people to Islam. Riley and Owen and their three teenage children suffer shattering losses but start a long journey to their isolated hunting camp in hopes of avoiding the fighting and the violence it brings: rape, slavery, torture and death. Thanks to Riley's upbringing in Texas, she knows how to hunt, fish and find kindling for a fire, as well as how to defend herself, and her children and husband have those same skills.
"The Modern Crusades" describes in chilling detail how they band together with others for survival, relying on their skills, their Christian faith and Bible verses to help them persevere. They stay in small groups to avoid being found, tracked and killed. Although they think of themselves as modern-day crusaders fighting those of Islamic faith, nobody wears shiny suits of armor or cloaks emblazoned with a cross like in days of old. Their end goal is a remote cabin by a lake where they can hunt and fish, and they must draw on their love of God and each other if they hope to survive the harrowing journey.
Author Angela Barnett Stanton, raised in Pearland, Texas, spent summers in the Piney woods of east Texas with her family. She lives near Houston. Stanton and her husband, Blake, have two children: Shellby and Kody. Pencil drawings by her niece, Madaline Whatley, enhance each chapter's opening page.
----------
For additional information, please visit http://www.themoderncrusades.com
The Modern Crusades
Angela Barnett Stanton
Dog Ear Publishing
ISBN: 978-1-4575-3733-2 260 pages $16.99 US
Available at Ingram, Amazon.com, Barnes & Noble and fine bookstores everywhere.
About Dog Ear Publishing, LLC
Dog Ear Publishing offers completely customized self-publishing services for independent authors. We provide cost-effective, fast, and highly profitable services to publish and distribute independently published books. Our book publishing and distribution services reach worldwide. Dog Ear authors retain all rights and complete creative control throughout the entire self-publishing process. Dog Ear Publishing reviews services and other book marketing services are available to connect great content with interested readers. Self-publishing services are available globally at http://www.dogearpublishing.net and from our offices in Indianapolis.
Dog Ear Publishing – self-publishing that actually makes sense.