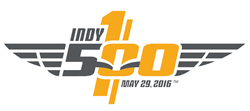 "As a kid I would watch the Indy 500 and dream of winning it some day. I guess in some way I did."
Milwaukee, Wisconsin (PRWEB) June 17, 2015
Mike Kasun won't be behind the wheel, but he is behind the logo design for the 2016 Indianapolis 500.
This American-made classic will have its 100th running in 2016, a celebration of the world's greatest spectacle in auto racing.
Kasun, of Mike Kasun Illustration, Elkhorn Wisconsin, had the honor of being chosen by MSK Advertising -- Indianapolis, IN -- to help them create and design the 2016 logo for the race. MSK Creative director Peter Kim teamed with Mr. Kasun to develop the classic logo for 100th running the Indy 500.
Kasun has created illustrations and logo designs for the likes of Major League Baseball, Miller Brewing Company, Mc Donald's, Harley Davidson, Wall Street Journal, Coca Cola, Briggs and Stratton, Snap-On tools, GE Medical and Intel.
"I'm just thrilled that I could play a small part in the history and tradition of such an iconic American sporting event" said Kasun. "As a kid I would watch the Indy 500 and dream of winning it some day. I guess in some way I did."
Owner of the Indianapolis Motor Speedway, Hulman and Company's CEO Mark Miles said the logo will get special attention as the race marks its100th anniversary. "It's just hard to express what this race means," Miles said. "The race in a way is about human achievement and the desire to always push the pedal and to always go farther, faster and to innovate. This place has stood for that all these many years, and we want to celebrate that in a big-time way."
Mike Kasun (MKI) is an Illustrator based in Elkhorn, WI who has over 25 years' experience creating logos and illustrations for clients all over the United States. Mike's work has been recognized locally, regionally and nationally. To learn more about Mike and his work, visit http://www.kasun.com.