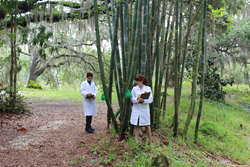 Sarasota, Florida (PRWEB) June 17, 2015
Donna Blethen loves the beauty of the outdoors. She enjoys watching the stories of nature unfolding from the windows looking out to her five acre Florida back yard. The scene evokes a deep woods setting, complete with large old oak trees full of hanging moss and a lake which invites many species of birds and wildlife to her little piece of almost paradise.
However, for years she would sit inside looking out, afraid of the danger that lurked out there - mosquitoes.
"We had this nice place to enjoy, but we never could come out during more than half of the year because the mosquitoes would eat us alive," she says. But that was then, before she had access to a revolutionary new product called EverSafe. "Now we enjoy the outdoors all year. We even throw parties in the middle of summer."
EverSafe, a revolutionary product of nine years of research and development is answering a need previously unfulfilled. How to simply and effectively control mosquitoes and keep them from biting over large areas. And as a big bonus, doing it with an all-natural, non toxic herbal product. EverSafe is on the market for the first time this year, and already it is creating a big demand among those who have tried it.
"We have people who are ordering it online who have never ordered anything from the internet before, and others are so happy to get and use it, they tell us it has changed their lives." remarked Sarah Ferragu, representative for the company.
Some of the early adopters of the product were horse owners. Horses can fall victim to many mosquito vectored diseases such as Eastern Equine Encephalitis. And they are largely defenseless against the dangerous pests, having no way to prevent them from biting, especially along the mane. One horse owner reported that before learning of the product's existence, she would feel welts where her horses had been bitten during the night. But, while the area was protected with EverSafe, her horses were virtually welt free. Word among horse owners is spreading.
EverSafe works unlike other mosquito control methods. Whereas most try to repel them with sprays, oils, citronella candles, and many other methods which have varying levels of effectiveness, EverSafe attracts the female mosquito, then confuses her, and she wanders off, eventually reverting to eating nectar from flowers and decaying matter wherever she can find it.
"Only the female mosquito seeks a blood meal, and she only does that when she is about to lay her eggs", reports John Lydiard, director of research at the Sarasota Florida based company, Matrix24, which makes EverSafe. "The product does not trap or kill the mosquitoes, it just modifies their behavior."
Many find the herbal, natural, and non-toxic aspect to be the principle draw. There is a growing unease with products containing DEET, the main ingredient of almost all other mosquito control compounds, especially those that are used directly on the skin. DEET has been shown in some studies to cause harm to the nervous system if used in large enough quantities over time. And, many seem to be allergic to it. Those wishing to maintain a natural lifestyle free of potential chemical hazards have had little to rely on to avoid the peril of mosquitoes, until now.
The formula was initially developed in Florida in 2005. Several years of testing and learning followed until now, 10 years later. It has been tested in locations around the world such as Alaska, Hawaii, Brazil, Philippines, Italy, Madagascar, and three sub Saharan countries in Africa, deep in malaria zones. It is currently being considered and tested for use by certain private companies for humanitarian use on the African continent. Early results are very promising.
EverSafe is made of botanical products and is completely natural and non toxic to people and their pets.
The product comes in a simple pouch to which the consumer just adds water and hangs it outside. According to the company, the mosquitoes simply stop biting and just wander off, eventually reverting to their natural diet of plant nectar and vegetation. It is available at many Home Depots in the SouthEast. And, 140 additional stores in Texas are being shipped the product in response to the flooding there in order to help against the inevitable aftermath of huge mosquito outbreaks there.
EverSafe can also be found on the company's website, EverSafeUSA.com.