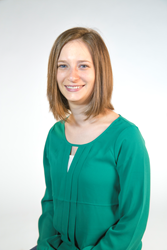 As a nutritionist you need to think about what you're changing before implementing that change from a desk
Marshall, MN (PRWEB) June 17, 2015
Ralco announced today that Dr. Kelly Peper has joined Ralco Nutrition as a Swine Technical Service and Research Nutritionist to further develop its relationships with customers and provide real-life solutions for greater producer profitability.
Dr. Peper holds a Bachelor of Science in animal science from the University of Missouri-Columbia, a Master of Science in animal science and swine nutrition from Kansas State University and a Ph.D. in swine nutrition from the University of Illinois. She also worked as the sow farm manager on a 2,700-head sow farm in the Oklahoma panhandle.
"From my time in the barn I know what day-to-day challenges producers face. Changing one small detail on paper has the potential to disrupt the entire flow of the operation," Peper explained. "As a nutritionist you need to think about what you're changing before implementing that change from a desk."
Dr. Peper's on-farm experience in a large-scale production facility serves as a significant asset in her new position.
"It's tough to raise hogs sitting behind a desk," said Dr. Jim Hedges, Vice President Swine Technical Services. "Dr. Peper comes to Ralco with a practical, real-world approach. She has been in the barn and understands how throughput works. With her experience and exceptional educational training, she'll be a dependable resource for our customers."
Dr. Peper joins the Ralco Nutrition team of industry leaders dedicated to improving producer profitability. The diverse knowledge and experience of the Ralco swine team, which includes numerous Ph.D.'s and advanced degrees, has led to the most advanced swine nutrition products and services.
Ralco is a third-generation family owned multinational company with distribution in more than 30 countries. A leading global provider of livestock nutrition, animal health products and crop enhancement products; Ralco supports large segments of the livestock, poultry, aquaculture and crop industries.
For more information about Ralco contact:
Ryan Wendland
330 3rd Street
Balaton, MN 56115
(507) 337-6819
ryan.wendland@ralconutrition.com