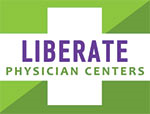 "Medical Marijuana is a rapidly growing industry, and Liberate is ideal for those wanting to get in on the ground floor." Dan Reid -- CEO
Lafayette, CO and Norton Shores, MI (PRWEB) June 17, 2015
Liberate Physician Management LLC and Liberate Physician Centers has appointed David Thistle as Director of Business Development, the company announced today. Thistle will lead the company's efforts to partner with entrepreneurs in operating medical marijuana certification centers using its proprietary process and the Liberate Physician Centers brand.
"David brings a tremendous amount of experience and expertise to Liberate," says Daniel J. Reid, Chief Executive Officer at Liberate. "His career includes significant work in consulting, technology and horticulture, all of which are important aspects of the medical cannabis industry."
Thistle previously was national account manager at Fujitsu Consulting, and earlier was director of sales at Perficient Consulting. Prior to that, he owned and operated his own wholesale nursery business, representing growers in three states and their product lines to big box stores such as Home Depot, Lowes, Walmart, Kmart, Target and others. He is a graduate of the University of Colorado and the Leeds School of Business.
Thistle will be based in the company's Colorado office and can be reached at 303.905.9191.
Licenses to own and operate a Liberate Physician Centers location are available in all states with a medical marijuana program, or in states that are expected to have a program in the next two years. The licensures include operations training, marketing training, operational support, access to the company's Chief Medical Officer and a full suite of services designed to promote the success of each clinic. The program is ideal for entrepreneurs or physicians wanting to enter the rapidly growing medical marijuana industry and be part of a national organization with deep and proven expertise serving medical marijuana patients.