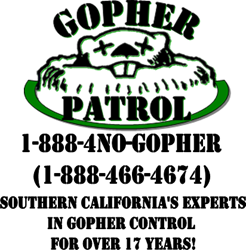 "Gopher Patrol helps us beat the heat with their pest sprays!" -Johnny H.
Riverside, CA (PRWEB) June 17, 2015
During those hot summer nights with a special someone, then suddenly a sting on the ankle sends an upsurge of anxiety and chaos trying to find where it came from. Well Gopher Patrol has the solution! Gopher Patrol is offering summer specials all throughout Summer to help fend off those pesky pests including: ants, spiders, earwigs, and roaches.
Gopher patrol offers these summer tidbits for preventative pest control this season:

Seal any cracks on the outside of the home with a silicone-based caulk, including entry points for utilities and pipes.
Replace weather-stripping and repair loose mortar around the foundation and windows.
Keep tree branches and shrubbery well-trimmed and away from the house.
Keep mulch at least 15 inches from the foundation.
Eliminate sources of standing water around the house, including birdbaths and in clogged gutters.
Keep basements, attics, and crawl spaces well ventilated and dry.
Store garbage in sealed containers and dispose of it regularly.
Avoid leaving pet's food dishes out for long periods of time.
Gopher Patrol also recommends to keep those other harmful pests under control as well such as: gophers, rodents, and moles who are looking for a tasty treat like your roots to quench their thirst. Gophers are notorious for gnawing on roots of trees, plants, and grass to have their bellies filled while on the murderous spree. Rodents alike are ensuring the growth of their families that had been born in spring by invading anywhere they can find some food to munch on and some rest from the heat. This summer, make sure to check out their interactive and informative website at gopherpatrol.com, where you can fill out their schedule and appointment form. A Gopher Patrol representative will get back to you same day to help with those increasing summer pest and gopher control needs. Gopher Patrol is available Monday-Friday from 8am-5pm and on Saturdays from 9am-2pm. You can reach them at 1-888-466-4674 or locally at 1-951-689-8200.