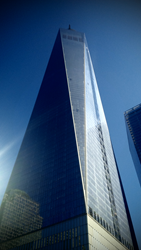 New York, NY (PRWEB) July 06, 2015
Summer is one of the busiest times in New York City with the sun and warm weather prompting as much sightseeing as possible. Instead of the usual Times Square attractions, however, New York City Vacation Packages (NYCVP) has seen a trend in tourists flocking to Lower Manhattan and the recently constructed landmarks there, which has quickly made it the city's newest micro-destination.
"Tourists would come down here to catch a ferry to see the Statue of Liberty or take one of our walking tours, but now they are coming down here to have an entire Downtown experience with good food, museums, the Financial District & Wall Street, the National 9/11 Memorial & Museum, and the opening of One World Observatory. You can spend an entire day or two sightseeing in Lower Manhattan alone," said Joel Cohen, Vice President of NYCVP.
Given all the growth and development Lower Manhattan has seen in recent years past, NYCVP has recently updated their Destination-Downtown New York City VIP Vacation to reflect the burgeoning micro-destination to include the National 9/11 Memorial & Museum as well as the brand new One World Observatory.
NYCVP's Lower Manhattan vacation packages includes such attractions as:
Battery Park (State St. & Battery Place) – One of NYC's oldest public areas and the launching point for the Statue of Liberty and Ellis Island ferry.
Bowling Green Park (Whitehall St. & Broadway) – The first official park in New York, founded in 1733.
Brooklyn Bridge (East River) – One of NYC's most beloved landmarks and an architectural phenomenon. .
Ellis Island (Ellis Island) – Home to the Ellis Island Immigration Museum, where more than 12 million immigrants entered the United States from 1892 through 1954.
National 9/11 Memorial & Museum (Fulton St & Greenwich St) – Honoring the lives of those who were lost on September 11th, 2001, built in the footprints of the Twin Towers.
One World Observatory (1 World Trade Center) – The tallest skyscraper in the Western hemisphere and the newest attraction in Lower Manhattan with an almost 360 degree observation deck.
St. Paul's Chapel (209 Broadway) – The oldest surviving church in Manhattan, where George Washington worshipped. Located across from what was once the Twin Towers, St. Paul's Chapel also served as a place of rest and refuge for recovery workers at the WTC site.
Statue of Liberty (Liberty Island) – As the United States' own icon of freedom, it was the welcoming site to immigrants arriving to Ellis Island to start anew.
Trinity Church (75 Broadway) – With so much history behind it, this church is famous for its three huge bronze doors, a small museum displaying historical documents and a churchyard with monuments from colonial American history.
Wall Street (Financial District) – The leading financial center in the world, Wall Street is the home to the New York Stock Exchange and near the Federal Reserve Building.
The full vacation package includes accommodations for 2-nights or longer at W Downtown, Statue of Liberty and Ellis Island ferry tickets, timed admission to the National 9/11 Memorial & Museum, timed admission to One World Observatory , and a number of free bonus features.
For more information about Lower Manhattan, New York City's newest micro-destination, or to plan your vacation to New York City, visit NYCTrip.com or call 877-NYC-Trip to speak to a personal vacation planner.
About NYCVP
New York City Vacation Packages has been a trusted NYC travel information authority since 1983 and is the only major independent tour company in the United States devoted exclusively to NYC travel. NYCVP offers services to make sure your custom New York City vacation is safe and secure, and is a member in good standing of NYC & Company (New York City's marketing and tourism organization), the National Tour Association, and the American Society of Travel Agents Tour Operator Program.