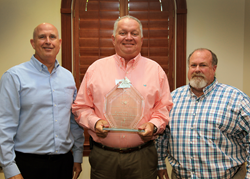 TAMPA, Fla. (PRWEB) June 17, 2015
Tampa Electric Co. presented the Gold Infinity Safety Award to Robins & Morton at the Tampa Electric/Energy Supply Safety Summit in May.
Mark Hornick, director of engineering and project management at TECO, and Ricky Steele, manager of construction, presented the award to Robins & Morton's field safety manager Gary Hiers at the banquet at the conclusion of the summit.
Tampa Electric began recognizing contractors and electrical suppliers with the Infinity Safety Award series six years ago for working safely and raising safety standards for the future. Symbolically named "Infinity," these honors are to encourage a never-ending commitment to safety and improvement of safety processes. Based on an application, OSHA recordable statistical data and onsite evaluations, Tampa Electric selects winners at the Platinum, Gold and Silver levels.
This award was based on Robins & Morton's 140,000 safe work hours from 2014, project management and conduct at TECO's Polk Power Plant project site.
###
About Robins & Morton
Founded in 1946, Robins & Morton is a privately held engineering and construction firm that consistently ranks among the 100 largest U.S. contractors in Engineering News-Record Magazine. The company has also been named one of the best mid-sized companies to work for in America because of its worker-friendly and family-friendly practices. Robins & Morton is based in Birmingham, Ala., with offices in Dallas, Texas; Huntsville, Ala.; Miami, Fla.; Orlando, Fla.; Nashville, Tenn.; Charlotte and Raleigh-Durham, N.C. For more information, visit http://www.robinsmorton.com