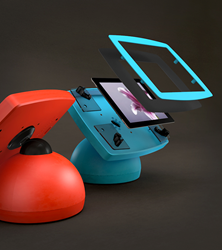 The new Microsoft Surface 3 fits beautifully into all Armodilo tablet enclosures and stands
Waterloo, ON (PRWEB) June 16, 2015
Armodilo Display Solutions is thrilled to announce support for the Microsoft Surface 3 tablet for all of its enclosures and tablet stands.
Utilizing a patent-pending Tablet Fit Kit™ system, Armodilo's award winning tablet enclosures and stands are the only small footprint kiosks on the market that are designed to accommodate a wide variety of tablet devices quickly and easily right out of the box.
"The new Microsoft Surface 3 fits beautifully into all Armodilo tablet enclosures and stands, thanks to our flexible Tablet Fit Kit system", states Iles Guran, Founder & Creative Director. "Our Tablet Fit Kits allow us to easily support a wide variety of tablets, including the new Microsoft Surface 3 tablet – which will be available immediately", adds Guran.
Armodilo Display Solutions currently supports over 60 unique tablets including: the full line of Microsoft Surface tablets, the full Apple iPad line, the full line of Samsung Galaxy tablets, and a wide range of other tablets as well. A full list of supported tablets can be found online.
Custom Tablet Fit Kit configurations are also available for tablets not listed for a minimal one-time setup fee of $49.
Visit http://www.armodilo.com for more information.
About Armodilo Display Solutions
Armodilo Display Solutions is a multiple award-winning tablet display manufacturer located in Ontario, Canada. With a variety of tablet display stands and accessories for trade show, event, retail and corporate markets, Armodilo sets itself apart by creating highly refined products for discerning brands around the world.