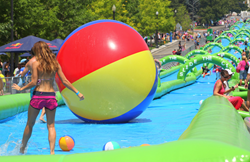 How many times have you been able to say you slid down your city streets?
St. Louis, MO (PRWEB) June 17, 2015
Summer is heating up and on July 11 and 12, Slide the City™ is bringing their thousand-foot slide to St. Louis. Recently thousands of participants in Fort Worth broke the Guinness World Record for "Longest distance slid on a slip 'n slide." Soon, Missourians will be able to slip and splash down this king sized urban slide on Market Street.
"We spend so much time walking, running and driving around our cities," said Slide the City™ event director TR Gourley. "But how many times have you been able to say you slid down your city streets?"
Market Street will be transformed into a water-lover's oasis as friends and family ride inflatables down this giant slide, which spans three city blocks. Slide the City™ organizers anticipate that thousands will come to "slide into summer." With music, local vendors, and giveaways, this family-friendly event promises to be a highlight of the season.
A portion of the event proceeds will be donated to St. Louis Area FoodBanks. This is a local charity that feeds the hungry by distributing food through a network of more than 500 partner agencies and engages the community in the fight against hunger.
"We want to make a difference while we're making memories," Gourley said. "We are excited to work with St. Louis Area FoodBanks for our upcoming event."
Participants can purchase a one, three or unlimited slide pass, and are encouraged to sign up before June 20 to take advantage of the current discount. Pricing starts at $16.
Slide the City™ is also partnering with St. Louis radio stations, Fresh 102.5, KMOX, and Y98.
Those over 5 years of age are welcome to slide. Visit http://www.slidethecity.com/events/st-louis/ for more information about dates and locations or checkout what fans have to say on the Slide the City™ Facebook page at http://www.facebook.com/slidethecity.
About Slide the City™
The first event of its kind, Slide the City™ has seen massive growth since it started in 2014. This original concept went viral when the video was released, and this year promises to be bigger, better, and wetter. Slide the City™ is on track to produce more than 100 in the US and Canada and has entered various other countries around the world. Slide the City™ is a family-friendly event bringing 1,000 feet of padded vinyl onto city streets. This giant three-lane slide travels around the country so people from coast-to-coast can have the slide of their lives.