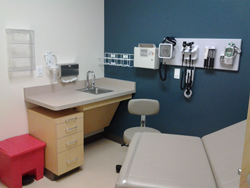 "White glove is more than our profession, it's a passion."
(PRWEB) June 16, 2015
South West Logistics is pleased to announce the expansion of their premier medical equipment delivery services to Texas, Colorado, New Mexico, Washington, and Oregon, after working exclusively in California for the past three years.
"White glove is more than our profession, it's a passion," says President, Scott Sloan. "Medical equipment - such as beds, wall installs and other instruments – has long needed a service that treats them with respect. This is why I created this company and am now expanding my service area."
White glove service is a growing trend among medical organizations wanting that special touch when it comes time to move them. This type of service is particularly beneficial for difficult to move equipment that may require technical knowledge to set up.
Special equipment being transported by white glove service also guarantees the safest packing and shipping methods from pick up to destination. A white glove moving service takes care of the whole process for you, properly packaging your valuables and taking extra care when moving them.
South West Logistics has been a trusted white glove medical delivery partner for clients such as Henry Schein, Inc., the world's largest provider of health care products, as well as and many others. Clients in the B2B industry – specifically in the medical fields - have depended on South West Logistics to store, transport and deliver their precious equipment with skill and care.
The professional staff of SWL prides itself on being professional and courteous and is always available to address questions and offer excellent solutions to most transportation and moving needs. Working closely with interior designers, building architects and office staff SWL ensures a perfect installation every time.
____________
South West Logistics provides transportation and warehousing to the hospital and high value equipment industry. The goal of SWL is to be dependable, flexible and competitive. South West Logistics provides transportation and warehousing services throughout the South Western United States.
With offices in Houston, San Antonio, Dallas, and Austin, Phoenix, Las Vegas, Denver, Seattle, Portland and Ontario, CA. There are more than 200 staff on board, a fleet of over 75 trucks and operate 6 modern warehouses with nearly a million square feet. Visit http://southwestlogisticsinc.com.