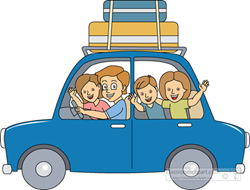 "Mystery shopping as you travel is a great way to earn some extra cash as you make your way across the USA. Our Project Coordinators are experts in assisting shoppers to create mystery shopping routes to fit their travel plans."
San Jose, CA (PRWEB) June 16, 2015
School is out, the winter frost has finally melted and the kids are registering complaints about being bored. It is this time of year that most American families hit the open road for a good old fashioned family vacation. According to AAA, travel during the 2015 season is expected to increase by nearly 5% as compared to last year. AAA also reports that 37.2 million started the summer vacation season by leaving home for Memorial Day weekend and this number was the highest in 10 years.
According to USA Today, one of the reasons for this rise in travel is due to a drop in gas prices. On May 15, 2015 they reported that this will be the cheapest driving season in 6 years. Further, they indicate that the typical American household will spend $675 less for gas this year as opposed to last year, an additional financial incentive to travel. But what if one plans yet another way to make vacation time more affordable?
San Jose based Jancyn Evaluation Shops has announced they offer programs that will assist cash-strapped families to subsidize their travels. According to Vicki Dempsey, Vice President of Jancyn, "Mystery shopping as you travel is a great way to earn some extra cash as you make your way across the USA. Our Project Coordinators are experts in assisting shoppers to create mystery shopping routes to fit their travel plans."
The Mystery Shopping Providers Association or [MSPA defines mystery shopping as, "The use of individuals trained/briefed to experience and measure compliance or any customer service process, by acting as potential customers/actual customers and in some way reporting back on their experiences in a detailed and objective way." Shoppers are paid for their time once they report their experiences back to the mystery shopping company. Restaurant shops most often include a meal reimbursement as well.
Ms. Dempsey also mentions, "Most shoppers sign up with several companies in order to increase their chances at having multiple projects to choose from and to find projects that best fit their personal needs. The MSPA maintains a list of member companies you can be sure are qualified and reputable. When it comes to incorporating mystery shopping into a family vacation experience, get the kids involved too! Asking them to help look for key project details, such as the name of their server or the cleanliness of a restroom, hones their observation skills and turns it into a fun spy game! Not all shopping assignments allow children, but many do."
The Jancyn shopper portal, which allows shoppers to self-schedule, has options that allow shoppers to search for assignments that will be near where they will be traveling to or along their travel route. The Jancyn Project Coordinators will also work closely with shoppers to schedule projects for them. Sometimes taking a break from a day of driving to take on a quick mystery shopping project is a welcome break from the chants of "I'm bored" and "When will be get there" coming from the back seat. The fact that families can make a few extra dollars while doing this is a welcome for any family budget.