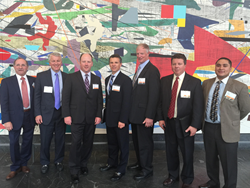 The IFP Investment Advisory Group and Professional Development Initiative represent our uncompromising commitment to providing both our clients and our advisors with access to innovative thought leadership and effective strategies in financial planning
Warwick, RI (PRWEB) June 16, 2015
Independence Financial Partners (IFP), a John Hancock Financial Network firm, based in Warwick, RI, today announced two newly developed initiatives designed to deepen expertise and provide more advanced capabilities to individual and business clients seeking financial guidance in Rhode Island, Massachusetts and Connecticut:
1. IFP established the IFP Investment Advisory Group, comprised of economists and financial experts from across the country. The Investment Advisory Group was established as a forum for reviewing, analyzing and drawing advanced insights from the work of IFP's in-house Investment Research Department to consider in charting investment strategies.
2. IFP established a new professional development program through which qualifying IFP financial representatives attend exclusive investment briefings with industry leading investment research firms. On June 11, the following representatives participated in a private investment briefing with JP Morgan Retirement Plan Solutions at their New York, NY headquarters: Chris Beaulieu, Randal Poirier, Marty Warburton, A.J. Fisher, Al Cumplido and Managing Partners: Rick Beaulieu, Kevin Beaulieu
"The IFP Investment Advisory Group and Professional Development Initiative represent our uncompromising commitment to providing both our clients and our advisors with access to innovative thought leadership and effective strategies in financial planning," stated Richard Beaulieu, Managing Partner at IFP.
About Independence Financial Partners: Independence Financial Partners (IFP) has been providing financial guidance to individuals, families and businesses for over 100 years. A family-founded firm with offices in Rhode Island, Connecticut and Massachusetts, IFP has grown to over 60 representatives throughout Southern New England. The firm continues to grow and evolve thanks to an authentic commitment to meaningful client relationships combined with access to the latest in financial research, resources and technology. IFP's mission is to offer clients an unexpected level of personal service and expertise that with the goal of leading to a more secure retirement outlook.
Company - http://www.indfp.com
LinkedIn - https://www.linkedin.com/company/independence-financial-partners
121-20150526-234528