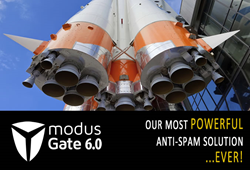 "The speed of reaction to the dissemination of newer, more destructive malware was our primary focus in the development of modusGate 6.0" said Mike Petsalis, Vircom's CEO
Montreal (PRWEB) June 18, 2015
Vircom launched today its newest anti-spam solution: modusGate 6.0. With its focus on email security, it presents a new real-time responsiveness using a live global grid that is capable of filtering and blocking all email-borne annoyances and threats including zero-day threats. The new modusGate 6.0 includes changes to its core filtering engine with technology that extensively scans content and reputation of source, increasing the catch-rate to almost 99.9%.
modusGate 6.0 uses a new artificial intelligence engine that works in real-time. It incorporates industry leading technology that studies and identifies possible advanced threat patterns even before they can be recognized by signature-based technologies, thereby addressing zero-day vulnerabilities.
"The speed of reaction to the dissemination of newer, more destructive malware was our primary focus in the development of modusGate 6.0," said Mike Petsalis, Vircom's CEO. "We've brought together the industry's top talent to deliver an email security solution that works 24/7/365, and is optimally designed to identify existing and developing threats in real-time."
Vircom is beginning to roll out modusGate 6.0 today to all existing and new customers.
For more information on modusGate 6.0
About Vircom:
Vircom is the IT security partner to thousands of customers representing millions of end users. Leaders in email security, they are an IT trend-setting company, always monitoring, analyzing and responding at the edge of the latest threats and attacks. By being at the forefront of technological advances, Vircom remains one step-ahead of understanding IT threats and challenges even before they occur and they continuously strive to infect their customers with a passion for IT security, through their personalized customer service.