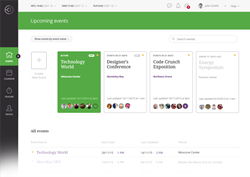 "You really have something here that no one is doing in terms of contact relationship management and planning."
Orlando, FL (PRWEB) June 16, 2015
EventCollab today announced it has launched the follow-up to its first released product, ShowBook. Providing a full event project management suite all in one online interface was the ultimate goal for the company, and that has been achieved today. The much-needed cloud-based solution will enable live event professionals to seamlessly collaborate with all event stakeholders within every event. The company will introduce EventCollab to the world on the largest stage for audio-visual professionals at the InfoComm show in Orlando this week.
2015 brings InfoComm's inaugural Innovations Showcase pavilion, and EventCollab is one of twenty new companies taking part. This gives new businesses that have never exhibited at InfoComm a chance to exhibit in a unique and positive way, and the opportunity to share their product's capabilities on the pavilion stage through "Tech Talks" each day of the show.
EventCollab Founder and CEO, Tommy Melancon, recognized the need for better collaboration and efficiency through the work his Level 2 Design production company has done in live events throughout the years. The clarity and time-saving EvenCollab has provided their projects sparked the move forward to develop a product the entire event industry can benefit from.
"Our development team has worked tirelessly to produce a system that is extremely user-friendly, and portable," stated Tommy, "There are many 'event apps' out there, and we believe this is the only one that helps everyone involved in the planning of our event project workflows in an efficient and streamlined way."
EventCollab is a robust event logistics scheduling and reporting tool, enabling users to track time spent on each event, assign tasks to team members, store—and edit—documents, chat within the events (and save the discussions) , maintain contacts, and import & maintain calendars (both personal and event-based).
In preparation for InfoComm, EventCollab has been conducting demos, and had the opportunity to show it to the Innovations Showcase media sponsor, rAVe Pubs last week. "This is obviously something that's needed by live events and staging folks, but I also see a broader use for it by agencies and manufacturers," was one of the first comments made by rAVe Pubs founder, Gary Kayye during a recent demo. "I already see an application for it within my publications business—you really have something here that no one is doing in terms of contact relationship management and planning."
The time for audio-visual companies, production companies, lighting designers, event planners, and project managers to become more efficient with the technology EventCollab has created has arrived.
About EventCollab
EventCollab develops cloud-based collaboration software tools. Launched to the public in 2014, this solution has been in production and in use by the founders' event production business since 2010. Their event-centric SaaS solution helps you efficiently and securely manage all of your events anytime, anywhere, via the cloud. Tucked into one convenient application, your contacts, data, calendars, schedules, tasks, and more -- will always be right at your fingertips. As a member of InfoComm, the audiovisual association, EventCollab looks forward to collaborating with everyone in the audio-visual and events industry at-large, as they continue to further develop the platform.
###