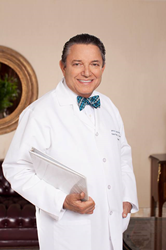 risks of smoking are even more severe when a man or woman decides to undergo a cosmetic procedure
Chicago, IL (PRWEB) June 15, 2015
Dr. Anthony J. Geroulis, board-certified cosmetic surgeon and founder of North Shore Center for Facial Plastic & Cosmetic Surgery, has many patients at his surgical facility who are smokers. Dr. Geroulis will only operate on patients who do not smoke or who can give up smoking for a period of time before and after their surgical procedure. "It's a known fact that smoking isn't good for your health," explains the Chicago-based surgeon. "However, the risks of smoking are even more severe when a man or woman decides to undergo a cosmetic procedure, such as a facelift or neck lift surgery."
The biggest risks are to the healing process, which can be longer and more drawn out if the patient is a smoker. "When a patient smokes prior to surgery, there are increased risks of skin necrosis, dead skin tissue due to lack of oxygen and blood, and scarring because of the way nicotine constricts blood vessels underneath the skin," says Dr. Geroulis. Additionally, when a patient undergoes a cosmetic procedure, such as an upper eyelift or rhinoplasty, straining must be limited as much as possible. The extreme coughing often caused by smoking can pose a risk to newly stitched facial tissue.
"The bottom line is that I will only operate on patients after reviewing their medical history in great detail," explains Dr. Geroulis. "If I can be assured that the patient can give up smoking for the recommended period of time and is healthy and capable of undergoing surgery, then I will operate. Safety is our top priority."
For more information about North Shore Center for Facial Plastic & Cosmetic Surgery, please call (866) 875-3937 or visit http://www.geroulis.com.
About Dr. Anthony J. Geroulis:
Bringing over 33 years of surgical and artistic experience to the field of facial plastic & cosmetic surgery, Anthony J. Geroulis, MD, FICS, has repeatedly been named a "Top Doctor" by U.S. News & World Report. Board certified in cosmetic surgery, author and active sculptor, Dr. Anthony Geroulis is a clinical professor of surgery at University of Chicago Medicine. His medical office is headquartered in Northfield, with offices in Chicago, at University of Chicago Medicine and at St. Alexius Medical Center in Hoffman Estates.