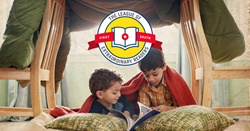 We're so excited about our new reading club and we look forward to the opportunity to get to know young scholars in our area.
Washington, NC (PRWEB) June 16, 2015
"We're so excited about our new reading club and we look forward to the opportunity to get to know young scholars in our area," said First South Bank President and CEO Bruce Elder.
The reading club is called The League of Extraordinary Readers. The club is open to students who are entering kindergarten up to those entering fifth grade. Beginning on June 15, 2015, parents or guardians can bring their readers to a First South Bank location where they will pick up a booklet to help track their progress along with an approved reading lists. The reading booklet will also be available via download from the bank's website and Facebook page.
The reading list includes more than 150 titles listed by grade level and targeted reader age and also identifies books by genre, theme and length. Books not featured on the list can be substituted as long as they fall within the appropriate age groups and length. Bruce continues: "Students who keep reading all summer always enjoy it. And research shows that it helps them stay on track in regards to their reading level, which helps them immensely once the school year starts up."
Students will use their issued reading booklets to track their summer reading. Once they have read ten approved books, they will bring their completed booklets, complete with signatures from a parent or guardian, back to First South Bank by August 14, 2015. With their booklet submitted, they'll be entered into the drawing for the Kindle Fires and they'll also receive a two-dollar bill as a reward and a commemoration of their participation. Downloaded booklets can be sent to the bank through the mail or via email. These readers won't receive the two-dollar bill, but they will still be entered into the drawing for the Kindles.
First South will promote the club and the drawing on Facebook, providing information, updates and announcements on prize-winners. The bank will hold the drawing on August 28, 2015 and notify winners shortly thereafter.
First South Bank has been serving the citizens of eastern North Carolina since 1902 and offers a variety of financial products and services, including an equipment leasing company and securities brokerage services through an affiliation with a broker/dealer. The Bank operates through its main office headquartered in Washington, North Carolina, and has 32 branch offices located throughout central, eastern, northeastern and southeastern North Carolina.
###