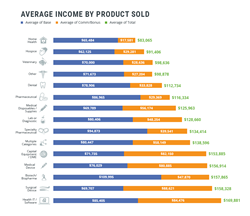 Medical sales jobs are evolving, but this is still a great time to be in the industry.
Alpharetta, GA (PRWEB) June 16, 2015
A new report by MedReps.com (http://www.medreps.com/), a job board for medical sales representatives, revealed that medical device sales jobs continue to be among the highest-paying jobs in medical sales, with an average salary of $156,914. The 2015 Salary Survey also found that professionals with health IT and healthcare software sales jobs are the top-earners in medical sales, with an average annual income of $169,881. The recently released survey broke down salary by product classification, experience, age, company size, and other influential factors.
"As health systems implement the tenets of the Affordable Care Act and meaningful use, opportunities in health IT and software are on the rise for medical sales reps," said Robyn Melhuish, Communications Manager at MedReps.com. "Despite changes affecting traditional medical device and pharma reps, they too are seeing increased opportunities and competitive incomes."
Notable findings from the 2015 Salary Survey included the following:

Overall salaries in medical sales are high. On average, medical sales representatives earn an average income of $141,464 with an average base salary of $80,681.
Medical sales professionals employed by manufacturers make the most. On average, professionals employed by large manufacturers earn $152,964. The majority of respondents are employed by manufacturers.
Age has more impact on earnings than experience. The highest medical sales salaries are earned by professionals in their 40s who take home an average annual salary of $154,247. When experience is equal, professionals in their 40s earn more than those in their 50s and 60s.
Men dominate top-paying medical sales positions. On average, women in medical sales earn just 79 percent of the total income for males. However, women are more likely to sell lower earning products such as pharma and home health. In addition, women account for just 10 percent of the highest paying job titles of Director of Sales and Sales VP.
Most medical sales professionals are satisfied with their salary and their job. Approximately two-thirds of those surveyed reported being very or somewhat satisfied with their income. Those who are "very satisfied" earn an average total of $181,621. Half of respondents are very satisfied with their overall job.
"We hope this data helps job seekers, professionals, and employers assess their compensation goals and make the best decisions for their careers and organizations," Melhuish said. "Medical sales jobs are evolving, but this is still a great time to be in the industry."
This survey analyzed data collected from 2,772 professionals currently working in medical sales. To access more information from this survey, click here.
About MedReps.com
MedReps.com is owned and operated by Healthcare Staffing Technologies. As the leading job site in its niche, MedReps.com gives members access to the most sought after medical sales jobs and pharmaceutical sales jobs on the web. Members have access to approximately 9,000 jobs and can apply directly to the recruiters and hiring managers who post them. For more information on the No. 1 site for medical sales, marketing, and management careers, please visit MedReps.com.