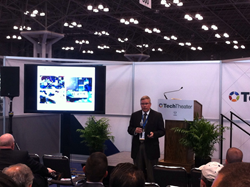 Being in the CaliBaja region makes Integra part of the largest sector of medical device manufacturing in the world
Tijuana, Mexico (PRWEB) June 15, 2015
The government of Baja California invited Christopher Olesky President of Integra Biotechnical, a division of Providien established in Tijuana, as a guest speaker to talk about their success story and competitive advantages achieved by operating in "Baja".
His speech titled "Building a Better Baja Through Medical Devices" pointed out critical factors that medical device companies require nowadays to compete globally, factors found in the CaliBaja manufacturing ecosystem: Connectivity, Experience, Cost Effectiveness, Ease of Access, and a highly educated & talented people "CaliBaja is a Binational Region that works Together", referring to the collaborative efforts of the local EDC´s to promote the region.
In addition, he invited certified suppliers to integrate to the región`s supply chain and meet the local demand that offer business opportunities typically around the $1.5 billion annually.
Quality? Mr. Olesky just responded "Our quality coming from Tijuana´s factory is impeccable", a strong statement coming from a medical devices and advanced manufacturing leader. The 43+ medical device firms based in Tijuana are ISO, ISO 13485 certified and FDA accredited. Also clean room facilities are built and operated under world class standards. For Tijuana industry, quality is not an added value is a culture.
He also shared the best way to establish operations in Baja California, is partnering with an EDC "to do things the right way", in the case of Tijuana EDC we offer free-of-charge initial advisory for manufacturing operations soft landing including government liaison for easy access to incentives.
Through our membership network an investor can find the best and most trusted business services such as accountants, lawyers, Industrial Parks, Customs brokers, Shelters and other services with the experience and knowledge required by industry.
Baja California has articulated an ecosystem for medical device industry integrating its 30 year experience in the field, Mexico´s platform of free trade agreements with more than 42 countries, the experience of over 45,000 people in the industry and the local engineering talent with more engineers per capita than any other state in the U.S., according to Bloomberg.
Baja California has also established a formal cluster of 65+ companies from contract manufacturers to global firms such Medtronic which second largest assembly plant is in Tijuana.