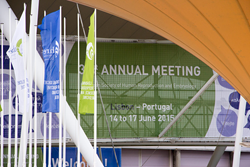 "We needed an app that could contain the wealth of scientific content that is available on the occasion of our Annual Meetings, such as abstracts and posters." -Bruno Van den Eede, ESHRE Managing Director
Lisbon, Portugal (PRWEB) June 16, 2015
SpotMe, the leader in mobile apps that supercharge medical events and meetings, announced today that it has been selected by ESHRE (European Society of Human Reproduction and Embryology) to provide the app for their congress, which starts on 14 June in Lisbon.
During four days ESHRE 2015 expects to host over 12,000 delegates as well as over a hundred exhibitors and sponsors, run close to 200 sessions and symposia, and make hundreds of abstracts and posters available. The app will support ESHRE's vision of a fully paperless medical congress.
Pierre Metrailler, SpotMe CEO Europe said, "We are extremely proud to have been chosen by ESHRE to support their prestigious congress. Our robust app platform has been designed to allow attendees to easily access any information important to them while also being able to network and participate in sessions through our interactive tool suite. We know that the amount of information available at such a large event can be overwhelming, so we have designed the app to provide all important information within a couple of taps from the home screen while boosting relevance by semantically meshing participant and scientific data."
Bruno Van den Eede, ESHRE Managing Director said, "This year is our first paper-free Annual Meeting. It was therefore key for us to be able to provide an app which is both robust and user-friendly for our delegates. We also needed an app that could contain the wealth of scientific content that is available on the occasion of our Annual Meetings, such as abstracts and posters."
"We were delighted to work with SpotMe and believed the app they have provided has greatly enhanced the experience of our delegates at our Annual Meeting this year in Lisbon."