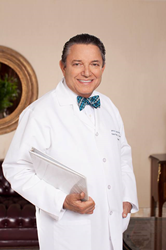 even with the protective shield over the eyeball, there is still laser spray which can cause serious vision complications
Chicago, IL (PRWEB) June 17, 2015
Dr. Anthony J. Geroulis, board-certified cosmetic surgeon and founder of North Shore Center for Facial Plastic & Cosmetic Surgery, has been performing upper and lower eyelid surgeries for over thirty years. Often times, new innovations and techniques can improve the efficacy of a surgical procedure, such as an upper blepharoplasty, also referred to as an upper eyelift or upper eyelid surgery. However, there are certain situations when the newer technology increases the risks associated with a given procedure, and the pros and cons of the technology must be weighed.
One such example is the use of electrical cautery or a laser during upper and lower eyelid surgery. The laser is a newer technology, which is said to minimize bleeding throughout the procedure and possibly lead to a shorter recovery time. Dr. Geroulis and many of his colleagues in the field do not agree with the use of a laser due to increased risks: "With regard to the lower eyelid, the concern has been that even with the protective shield over the eyeball, there is still laser spray which can cause serious vision complications. For this reason I, and many other surgeons, do not use a laser in the eye area for either the upper or lower blepharoplasty" explains Dr. Geroulis.
The electrical cautery helps to stop bleeding (to minimize post-surgical bruising), while doing so in a safer manner. Dr. Geroulis uses this technology to perform his lower eyelid surgery using the "transconjunctival approach," which removes fat deposits without a visible scar. For more information about North Shore Center for Facial Plastic & Cosmetic Surgery, please call (866) 875-3937or visit http://www.geroulis.com.
About Dr. Anthony J. Geroulis:
Bringing over 33 years of surgical and artistic experience to the field of facial plastic & cosmetic surgery, Anthony J. Geroulis, MD, FICS, has repeatedly been named a "Top Doctor" by U.S. News & World Report. Board certified in cosmetic surgery, author and active sculptor, Dr. Anthony Geroulis is a clinical professor of surgery at University of Chicago Medicine. His medical office is headquartered in Northfield, with offices in Chicago, at University of Chicago Medicine and at St. Alexius Medical Center in Hoffman Estates.