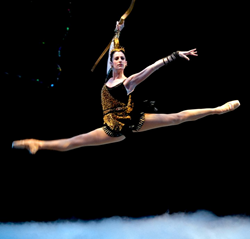 Long-time Pacific Northwest Ballet prima ballerina Ariana Lallone brings her unique skill-set to the circus as choreographer.
Seattle, WASH. (PRWEB) June 16, 2015
Longtime Pacific Northwest Ballet (PNB) prima ballerina Ariana Lallone returns to Teatro ZinZanni Seattle not to dance, but to choreograph The Return of Chaos, the tent's summer blockbuster dinner show, opening June 11, 2015 and running through September 13, 2015. Retired from PNB in June of 2011, after a prolific 24-year career, Lallone was immediately recruited by ZinZanni and made her debut in Bonsoir Lilliane in September 2011 under the direction of living-legend Tommy Tune. Since then, Lallone has gone on to perform in two additional dinner shows, to co-choreograph the dinner show On The Air, and to choreograph two of the tent's much-loved children's shows. The Return of Chaos marks Lallone's very first solo venture into dinner show choreography inside the internationally renowned spiegeltent tent in Seattle's theatre district on Mercer Street.
For Lallone, the world nearly stood still toward the end of her long career at Seattle's prestigious PNB. "The finality of the word 'retire' and the stigma of exiting the company was big for me – I loved my career and I knew I wasn't done performing," she commented. A huge fan of Teatro ZinZanni – located directly across the street from PNB in Seattle – it was a true moment of when one door closes another door opens when Reenie Duff, Teatro ZinZanni's associate artistic director approached her with the opportunity to perform under Tommy Tune's direction in 2011. "Bringing Ariana into the Teatro ZinZanni fold fulfilled many dreams for me. Seeing her transition from the big stage to the small cabaret stage has been amazing," Duff commented.
In Bonsoir Liliane, Lallone performed on pointe in a tutu and also shared a very unique number that required her to maneuver six-foot wings that were attached to a billowing white costume. "The movement of both pieces was very familiar to my ballerina senses, however performing in the round, the close proximity of the audience, the raised stage, and the unique dimensions of tent became my new challenge." When the show closed, the circus bug had bitten Lallone. She decided to incorporate her ballet skill into her training with the lyra, a hoop-aerial performance style. "I love to turn and jump and I wanted to be able to enhance the floor work I was doing as well. I felt the lyra might be able to do just that in the unique space of the tent. I spent a year training and working on putting an act together." Lallone premiered her hoop-aerial-ballet act in the 2013 production, Dinner at Wotan's, a performance The Seattle Times called "beguiling." Since then, she took time to focus on choreographing for two different family-friendly shows produced by Teatro ZinZanni in 2014, and in the 2015 performed in the dinner show production, Hacienda Holiday.
Next up for Lallone is first-time evening show choreography for Teatro ZinZanni's summer blockbuster, an all-new production called The Return of Chaos. "I've always been hesitant to choreograph," Lallone commented. "ZinZanni continues to encourage me and give me opportunities to expand as an artist and person. In approaching the choreography for this show, I thought about what it's like from the vantage point of the audience as well as a performer. I find it a fascinating challenge to create work in the circular setting of the tent. The cast and wait staff are often intertwined throughout the evening, so I've worked to make a cohesive connection between the two and have loved the process of making sure your meal is creatively delivered."
The Return of Chaos plays June 11-September 13, 2015 (press night June 25) at Teatro ZinZanni (222 Mercer Street, Seattle, WA 98101). Ticket prices start at $99 and can be purchased online at ZinZanni.com/Seattle, by phone (206) 802-0015, or in-person at the Teatro ZinZanni Box Office (open Tuesday-Sunday, Noon-7:00 p.m.).
About The Cast
Teatro ZinZanni's latest spectacle The Return to Chaos features a robust cast of eleven including juggling sensation Joel Salom, Swedish chanteuse Anki Albertsson, Canadian comedian Joe de Paul, physical and improvisational queen Kevin Kent, spell-binding aerial trapeze artists Duo Madrona, contortionist beauty Vita Radionova, tapping funny-man Mickael Bajazet, French acrobat Domitil Ailott, and master trapeze artists The Collins Brothers, with direction by Norman Langill, music direction by Hans Teuber, and first-time dinner show choreography by Ariana Lallone, former Pacific Northwest Ballet prima ballerina, and regular Teatro ZinZanni performer.
The Return to Chaos is directed by Norm Langil with costume design by Louise DiLenge, sound design by Rob Witmer, lighting design by Peter Bracilano, props and scene design by Shauna Frazier and choreography by Ariana Lallone.
For complete cast and company details: http://zinzanni.com/seattle
About The Band
The live band for The Return to Chaos features Jose Martinez (drums); Steve Moore (trombone, keyboards); Tom Kellock (piano); and Hans Teuber (musical director, woodwinds, bass, and everything else).
About The Meal
Teatro ZinZanni Chef Erik Carlson found inspiration for an all-new menu in the superhero theme. His bold multi-course feast will feature decadent entrees choices of wild mushroom and rosemary braised all-natural short rib; Wild Salmon served with a gruyere and purple cauliflower puree; or broccolini, Dill Havarti and sun-dried tomato quiche as a vegetarian option. The entire meal experience will be topped off with "The Villains Cake Bomb" – a new dessert created for Teatro ZinZanni.
About Teatro ZinZanni:
Teatro ZinZanni is an original show, which combines European cirque, cabaret, spectacle, and live music meanwhile serving up a multi-course feast designed by Chef Erik Carlson. The show is presented in a gorgeous, climate-controlled, antique cabaret tent (known as a spiegeltent). Imported from Belgium, the spiegeltent is nicknamed the Moulin Rouge. Built in 1910, it boasts stained glass, hand-carved wooden interior columns, polished crystal and mirrors. Guests are seated restaurant-style in this unique venue, and the action of the show takes place throughout the circular structure. The Moulin Rouge comfortably seats 285 guests.
# # #