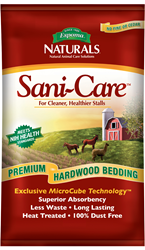 The company's transition into animal care products was natural. We wanted a product like this so that our horses health can improve and they can prosper.
Millville, NJ (PRWEB) June 17, 2015
The Espoma Company, best known for its 86-year history of producing high quality natural plant foods, expands its offerings with the launch of a new division. Espoma Naturals will feature a variety of natural animal care solutions.
The first Naturals product, Sani-Care, is a premium hardwood animal bedding that launched in January 2015. Espoma's Sani-Care is unlike other bedding products on the market that feature pine and other softwood materials. Espoma chose to meet National Institutes of Health (NIH) standards for animal bedding to ensure that Sani-Care promotes cleaner and healthier stalls.
"Espoma is full of animal lovers. In fact, our founder, H.G. Sanders, rode his horse to work nearly every day," says Jaime Brunner, part of the fourth generation to join the family business at Espoma.
"As an animal enthusiast and equestrian myself, I understand how important an animal's health and well being is for an owner. My family has used Sani-Care in our stables for more than 25 years. That's why I'm proud to finally bring Sani-Care to the market," Brunner says.
Sani-Care will help reduce labor, waste and overall costs. Featuring Espoma's exclusive Microcube Technology, it is also highly absorbent, siftable and non-allergenic. Once the product is saturated it will darken and clump like kitty litter.
The most significant benefit of Sani-Care is that it provides animals with a cleaner, drier and healthier environment. Animals with allergies and respiratory issues will rest easy with Sani-Care. The product has also been recently approved for use as poultry bedding.
Espoma Naturals Sani-Care is the only animal bedding product that offers these combinations of benefits. Brunner explains, "Once you experience Sani-Care, you'll wonder how you ever got along without it."
For more information, visit sani-care.com or contact The Espoma Company at 800-634-0603.
The Espoma Company has been the pioneer in natural gardening solutions since 1929. Espoma provides an extensive selection of natural products that work in harmony with nature and are safe for people, pets and the planet. The company produces more than 100 products to cover the nutritional needs of plants and to grow beautiful lawns and gardens. Visit espoma.com for more information and tips about organic lawn care.